Posted on
Thu, Nov 29, 2012 : 5:59 a.m.
Developers file site plans for high-rise apartment buildings on East Huron, Church streets
By Lizzy Alfs
The developers behind two student apartment buildings proposed for downtown Ann Arbor formally have submitted site plans to the city's planning department.
The projects — which follow a wave of new housing construction in Ann Arbor — would bring 733 bedrooms to the rental market and add two buildings to the downtown skyline.
The first project, proposed by Pizza House owner Dennis Tice in a partnership with Minnesota-based Opus Group, would add 13 stories of residential housing above the existing restaurant on Church Street. An existing two-story residential structure south of the site would be demolished.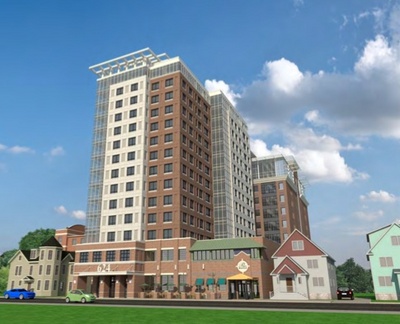 Rendering by J Bradley Moore & Associates
The development, which would be built in the city's D1 zoning district, calls for 76 apartment units with 196 total bedrooms. There would be a mix of one-, three- and four-bedroom units and a range of amenities, including a rooftop area and ground-floor plaza.
The developers already reached an agreement with the Downtown Development Authority to provide 42 parking spaces off-site.
Throughout the city's planning process, the project has received some positive feedback. Architect Brad Moore of Ann Arbor's J Bradley Moore & Associates detailed the plans to the Design Review Board and to about a dozen residents and neighbors at a citizen participation meeting. (Read more about resident feedback here)
Since going before Ann Arbor's Design Review Board, the developers behind the second project, proposed for East Huron and North Division streets, have made several design changes.
The 14-story high-rise, located in D1 zoning, would replace a vacant building, a former Papa John's pizza store and a residential structure. Connecticut-based real estate firm Greenfield Partners purchased the properties for $6 million.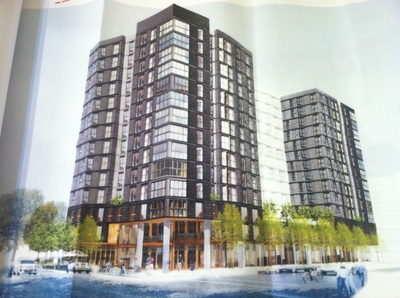 Lizzy Alfs | AnnArbor.com
Plans call for 216 apartments with 537 total bedrooms, and two floors of underground parking with 139 spaces. Georgia-based Carter, the developer spearheading the project, plans to incorporate first-floor retail, a pool and other amenities.
But because the project would abut a historic residential neighborhood to the north, it has been rather controversial among neighboring residents. (Read more here)
In the site plan application, Conor McNally of Carter said "significant modifications" have been made to the original proposal.
"The site layout and building design of the project have evolved through a series of preliminary city staff reviews and meetings with local representatives," he wrote in the application.
"Based on input from the (Design Review Board) and from neighbors, citizens and elected officials at various meetings held, the development team has made significant modifications to the building design," the application continues.
Some of the changes include incorporating a glass facade on the corner of the building to draw attention to the "prominent" corner of downtown, a change in facade colors to break up various sections of the tower, and increasing the first-floor setback from the curb.
"(We) created a sizable inset retail plaza at the corner of Huron and Division to enhance the corner experience and provide space for outdoor dining," the application said.
They eliminated plans for a plaza at the rear of the property, choosing instead to focus on Division and Huron frontage. As per the Design Review Board's comments, they also plan to replace exposed concrete at street level with either tile or glazed brick.
Both projects will be reviewed by planning staff before going before Ann Arbor's Planning Commission and City Council for approval beginning in January.
Lizzy Alfs is a business reporter for AnnArbor.com. Reach her at 734-623-2584 or email her at lizzyalfs@annarbor.com. Follow her on Twitter at http://twitter.com/lizzyalfs.