Posted on
Sun, Mar 31, 2013 : 5:58 a.m.
Does Washtenaw County need to attract a major corporate headquarters?
By Lizzy Alfs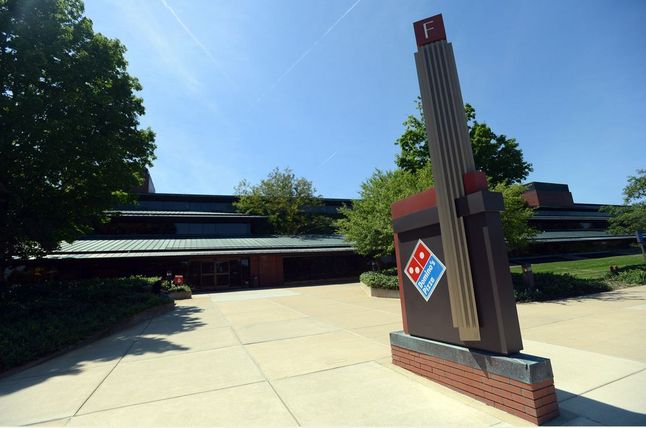 Melanie Maxwell | AnnArbor.com file photo
Is attracting a major corporate headquarters vital to Washtenaw County's economic growth?
That question, posed by University of Michigan economists last week, is something the county's political and business leaders need to consider as the region emerges from the depths of the recession.
Washtenaw County's corporate headquarters sector — defined as the "management of companies and enterprises" — has declined 76 percent since 1999, according to a recent economic forecast conducted by U-M's George Fulton and Donald Grimes.
The industry employed 3,058 workers in Washtenaw County in 1999, and by 2012, the workforce fell to 742 people. The loss was fueled partly by Borders' liquidation in 2011. The bookstore chain employed about 400 workers at its corporate headquarters in Ann Arbor.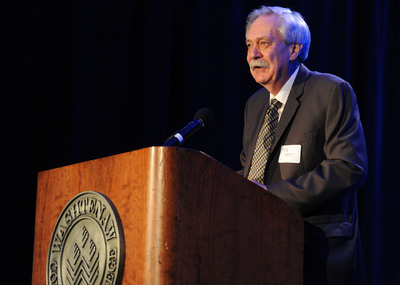 Angela J. Cesere | AnnArbor.com file photo
From 2013 through 2015, the sector is expected to add 63 jobs. The forecast predicts the county, as a whole, will add 12,961 new jobs in the three-year period, replenishing all of the jobs lost during the recession as early as next month.
"This (sector) did stick out in the report, of course, because of the loss we've taken in the past 10 or 15 years," Fulton said in an interview. "It's pretty significant on a percentage basis. It would be nice to kind of reverse that trend."
Defining the sector is difficult; the federal government divides employment into 171 industries, and the corporate headquarters industry likely only includes certain positions at local, national and international companies headquartered in Ann Arbor.
Still, it poses an interesting question: should community leaders focus their attention on attracting more big companies here?
Paul Krutko, chief executive officer of economic development group Ann Arbor SPARK, said it's more important to help the region's existing or startup companies thrive, rather than trying to relocate big companies here.
"The notion that you would go to another community with a set of incentives and benefits to attract a large corporate headquarters to move to a community — I think that those days are long gone," he said. "What is more productive is to work with your existing companies and growing new companies."
Washtenaw County has a thriving knowledge-based community, consisting of many small companies across various sectors. The forecast predicts the professional and business services sector, which includes most of the region's technology and consulting firms, is expected to add 1,873 jobs through 2015.
"We're talking about a lot of small companies growing rapidly, rather than plunking down 3,000 workers in one shot," Fulton said, referring to that sector's growth.
Fulton and Grimes said Washtenaw County is unique in that it doesn't rely on a single major sector — like automotive manufacturing — to fuel the economy. Rather, its recovery is broad-based across many industries.
But still, Fulton said, big companies are economic drivers.
"I would not call it critical (to grow the headquarters sector), but I would call it highly desirable," he said. "Washtenaw will chug along without it, but obviously, it's highly desirable to get that type of operation and those types of employees."
Domino's Pizza CEO Patrick Doyle said the global pizza delivery chain employs between 550 and 600 people at its headquarters in Ann Arbor Township. The 53-year-old company recently reinforced its commitment to the area when it renewed its lease in the Domino's Farms Office Park for 10 years.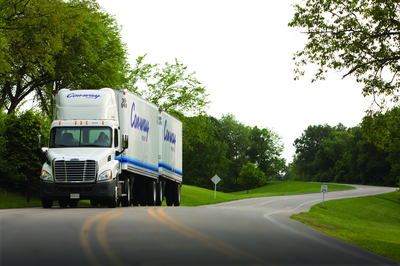 Photo courtesy of Con-way Freight
Con-way Freight — a company hit particularly hard by the recession — now employs 401 people at its offices on Old Earhart Road and is looking to hire. In the privately-owned category, Ann Arbor's McKinley Inc. employs 1,600 people across the country, including 500 in Michigan, said CEO Albert Berriz.
Doyle said his pizza company, which is growing rapidly overseas, remains committed to Washtenaw County for one main reason: the talent pool.
"The reason you choose to headquarter a company somewhere is because you're convinced that you're going to be able to access the best talent for the needs of your company. Ann Arbor serves us incredibly well on that front," he said.
He estimated that a third of the employees at the Domino's headquarters work in the company's technology division, which is well staffed with U-M, Eastern Michigan University and Michigan State alumni.
Ann Arbor Mayor John Hieftje said the city has focused its efforts on boosting the area's "quality of life" factor, which in turn attracts companies and convinces talented workers to live and work in the area.
"Certainly, attracting a major headquarters is a topic that comes up, but I'm not sure we should be expending a lot of energy in that direction," he said. "Improving quality of life is the best thing we can do for economic development."
He said the city doesn't provide many tax abatements, but instead, focuses on growing the area's existing companies. He said the $1 million in free parking incentives the city provided to Google was important in creating downtown's "tech campus," but it's not something Ann Arbor relies on to promote business development.
"I'd rather see the growth in a number of small companies. I don't really want to do anything extra or spend resources to bring in a headquarters, particularly not downtown," he said.
Added Krutko: "We'd rather be able to support the growth or attraction of 10 companies to equal 3,000 jobs than a single company. If you have 10 companies and one goes out of business, you still have 90 percent of what you had before."
Lizzy Alfs is a business reporter for AnnArbor.com. Reach her at 734-623-2584 or email her at lizzyalfs@annarbor.com. Follow her on Twitter at http://twitter.com/lizzyalfs.