Posted on
Wed, Mar 27, 2013 : 5:58 a.m.
Washtenaw County in the midst of a 6-year economic rebound, adding 25,000 jobs
By Lizzy Alfs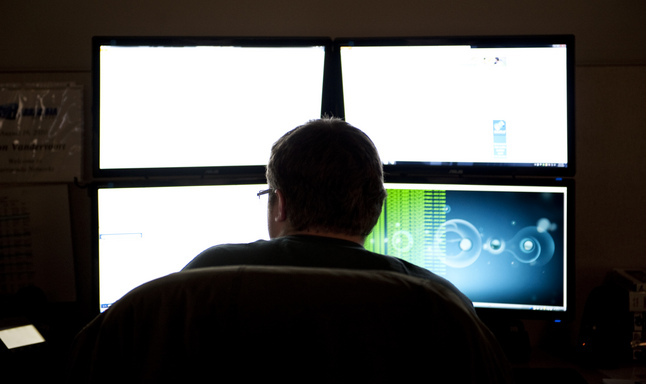 Daniel Brenner | AnnArbor.com
Related story: Live feed from annual Washtenaw County Oulook event
Washtenaw County is in the middle of a six-year economic rebound that will result in 25,000 new jobs and replenish all the jobs lost during the recession.
That's the message from a 2013-2015 economic forecast conducted by University of Michigan economists George Fulton and Donald Grimes for AnnArbor.com.
The forecast, released this week, predicts the county will add 12,961 new jobs from 2013 to 2015, while the unemployment rate will fall from 5 percent to 4.3 percent by the end of the three-year period.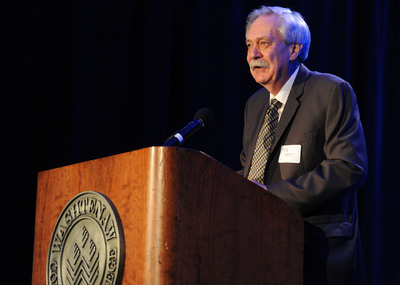 AnnArbor.com file photo
That's in addition to the 11,978 jobs added from 2010 to 2012.
"It's sort of remarkable how quickly we have turned around," Grimes said in an interview. "I don't think we would have expected that three years ago."
Since 1986, the economists have been forecasting local job growth with an annual average error of 0.7 percent. After four consecutive years of job losses from 2006 through 2009, Fulton and Grimes agree: this year's report is good news for Washtenaw County.
It shows the recovery is broad based: There will be new jobs added across most major sectors, with high-wage industries leading the way. High-wage jobs are defined by those earning more than $62,000 in annual wages.
By the second quarter of 2013, the county will surpass its previous peak level of employment in 2002, and by 2015, the county will have 11,000 more jobs than ever before. In 2012, there was an estimated 193,149 total jobs in Washtenaw County.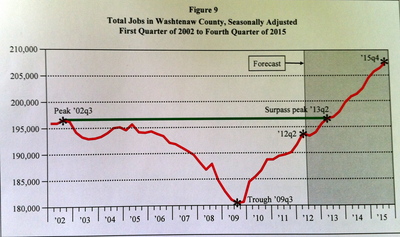 Washtenaw County economic outlook
"That might seem less of a deal to our residents than if you live outside of this area, because so many parts of the state are so far from recovery," Fulton said. "This is enviable…this area is doing very well in that regard."
Indeed, Washtenaw County's jobless rate has fared better than the U.S. and the state of Michigan, which posted an 8.9 percent unemployment rate in January. In the U.S., unemployment is expected to fall from 8.1 percent in 2012 to 6.7 percent in 2015.
Still, there are concerns regarding the Ann Arbor area's economy as the unemployment rate hovers well above the 3.6 percent it averaged between 1990 and 2007. Meanwhile, the overall poverty rate has increased by more than half between 1999 and 2011 — when the most recent data was available — and the rate for children has more than doubled.
Washtenaw County economic forecast
Job growth in the county 2005-2015
2005: 442 gain
2006: 1,240 loss
2007: 2,594 loss
2008: 3,883 loss
2009: 5,712 loss
2010: 5,178 gain
2011: 3,100 gain
2012: 3,700 gain
2013: 3,619 gain (forecast)
2014: 4,361 gain (forecast)
2015: 4,981 gain (forecast)
"It looks like we're going to have a real problem, both nationally as well as locally, in dealing with a lot of people who were extraordinarily hurt by the Great Recession, or decade-long recession," Grimes said. "That's going to be a long-term issue I think the country is going to have to figure out some way to deal with."
Where are the jobs?
In 2012, about 62.5 percent of Washtenaw County's jobs were in the private sector, with 37.5 percent defined as government jobs. The University of Michigan and its health system — the county's largest employers with a combined workforce of 41,700 people — are classified under the state government sector, which is expected to add 3,520 jobs over the next three years.
"Clearly, the University of Michigan and its health system have been the foundation for the region's economic stability over the past decade," the report says.
Pete Barkey, the health system's director of public relations, said the organization is anticipating job growth through 2015 as demand for care grows. He also expects hiring increases associated with ambulatory care.
The county's federal government sector shows a slight decline in employment through 2015, largely due to cuts at the United States Postal Service. The post office ranks as the region's 12th largest employer with 923 workers, according to data from Ann Arbor SPARK and the Michigan Department of Technology, Management and Budget.
The three private service-providing industries that lead job growth through 2015 are: Trade, transportation and utilities; professional and business services; and private education and health services.
The professional and business services sector, which includes most of the region's technology companies and consulting firms, is expected to add 1,873 jobs. Fulton said many of those gains stem from small companies experiencing rapid growth.
"We're certainly bullish in (the technology) sector," he said.
"We're talking about a lot of small companies growing rapidly, rather than plunking down 3,000 workers in one shot," he continued.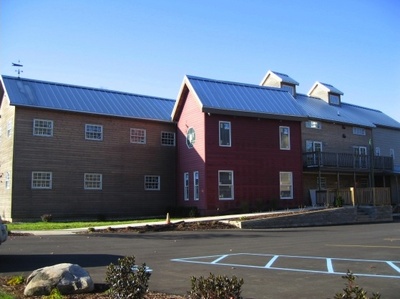 Photo courtesy of MedHub
One of those companies is U-M startup health care software firm
MedHub Inc
., which is poised to hire more than 20 employees — mostly software developers — over the next three years, said CEO
Peter Orr
. In 2011, the company
acquired
a 22,000-square-foot old grain mill in downtown Dexter so it would have room to expand and a unique office for attracting talent.
Technology companies Barracuda Networks and PRIME Research, which both expanded in downtown Ann Arbor this year, have announced plans to hire additional employees over the next several years.
The financial activities sector is predicted to add 663 jobs, with 250 of those coming from Gold Star Mortgage Financial Group. The Ann Arbor-based company announced plans in early March to move into the former Borders headquarters on Phoenix Drive, and CEO Dan Milstein said he plans to hire about 250 new employees this year. Cole Taylor Mortgage has also experienced rapid growth at its headquarters in the Northeast Corporate Center.
One of the fastest growing industries in the private sector is transportation and warehousing, where employment is expected to grow by 17 percent through 2015.
At Ann Arbor Township's Con-way Freight — a company hit particularly hard by the recession — 2012 employment was up about 7 percent compared with 2011, said company spokesman Gary Frantz. He said the office on Old Earhart Road employs 401 people, and it has an additional 38 employees at a service center in Whitmore Lake. The company is hiring in various departments, including sales, operations and project management.
In the retail trade sector, job gains are forecasted for grocery stores (271 new jobs) and clothing stores (123 new jobs), while department stores and bookstores are expected to lose jobs over the next three years.
Local manufacturers — a sector that shed thousands of jobs during the recession — are expected to add 712 jobs through 2015, with most of the gains occurring outside the motor vehicle manufacturing industry. That industry, which involves vehicle assembly, will lose 40 jobs this year and then experience small gains in 2014 and 2015.
"I think (one) aspect I thought was sort of interesting, was we've got the strong recovery without any help from auto manufacturing in Washtenaw County," Grimes said.
Job gains in manufacturing come from even growth across several industries, including fabricated metal products, medical equipment and supplies, plastics and rubber products, and computer and electronic products. Meanwhile, book printing will lose 100 jobs through 2015.
A rebound in new home construction is expected to boost construction jobs in the county by 23 percent, or 752 workers, during the three-year period. It's good news for an industry that was cut almost in half from 2005 to 2011.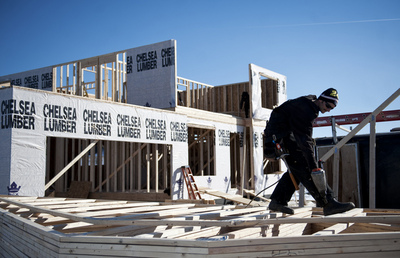 Daniel Brenner | AnnArbor.com
"The industry is rebounding and so in general, we're busier than we were," said Doug Selby of Ann Arbor's Meadowlark Builders. Selby estimated the company, which specializes in green building and remodeling, has received triple the amount of leads for new homes since the third quarter of 2012.
"During the last six months, we've hired two (people), we're in the process of hiring two more, and when things pick up in late spring and summer, we're probably going to be hiring two more," he said.
Other construction job gains will come from non-residential projects, like the Briarwood Mall renovations and the under-construction Arbor Hills shopping center on Washtenaw Avenue.
High-wage growth
As Washtenaw County started its recovery and added jobs in 2010, the economists wondered: Were the new jobs coming from low-wage, middle-wage or high-wage industries?
The answer they found and what they're forecasting will continue through 2015, is that high-wage industries in the private sector are growing at the fastest rate. Hot industries include engineering, computer systems design and scientific research and development.
The number of high-wage jobs (annual wages higher than $62,000) is expected to grow by 8.5 percent, or 2,968 jobs, through 2015. Employees in this category earned an average $83,796 in annual wages in 2011. Middle-wage jobs (earning $33,500 to $62,000) will rise 7.5 percent, and low-wage jobs (less than $33,500) will grow by 6.8 percent.
"Obviously, that's favorable for the overall economic prospects and prosperity of the county," Fulton said.
Fulton said it's a trend that's occurring statewide, and it places an emphasis on the importance of higher education. It also puts more pressure on those with only a high school degree.
"Somehow, more jobs have to be created for those people," he said. "It has to grow faster, however that comes about, or else they have to acquire more education or training."
Orr, CEO of MedHub, said growth in these knowledge-based industries is making it difficult to find qualified workers to fill the growing number of technology job openings in the county. He said it's the main threat to his company's growth.
"The issue is simple: low availability of qualified candidates produced in this region and high competition for them. This will be the single most critical factor in determining whether the forecasted job growth actually comes to fruition," he said in an email interview.
Economic concerns
Fulton said one of the biggest disappointments in the forecast is that by the end of 2015, the unemployment rate is still too high by historical standards.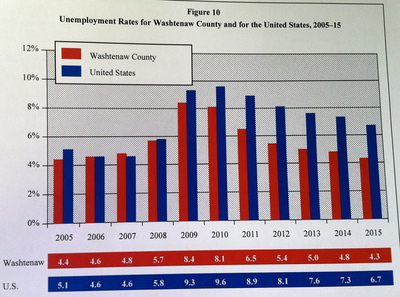 Washtenaw County economic outlook
A 4.3 percent unemployment rate in 2015 is above the 3.6 percent the county averaged from 1990 to 2007.
Data from the Southeast Michigan Council of Governments and the U.S. Census Bureau shows Washtenaw County experienced modest population growth of about 5,500 in the past two years, but Fulton said most of the forecasted new jobs will be filled by people already living in the region.
"One of the things that's causing the (unemployment) rate not to drop further is the re-entrance into the labor force," he said. Discouraged workers who stopped looking for work during the recession drop out of the unemployment statistics. As they start looking for jobs again, they re-enter the workforce.
Another notable concern for the local economy is impending federal government spending cuts on research and health care.
"The University of Michigan, including its health system, has been very successful in growing its slice of the federal research pie," the report says. "But now that the pie is in danger of shrinking, the university will need to look increasingly to private-sector activity to sustain the growth in its academic research."
Lizzy Alfs is a business reporter for AnnArbor.com. Reach her at 734-623-2584 or email her at lizzyalfs@annarbor.com. Follow her on Twitter at http://twitter.com/lizzyalfs.