Posted on
Sat, May 4, 2013 : 5:58 a.m.
Domino's Pizza installs in-store cameras so customers can watch live video feed
By Lizzy Alfs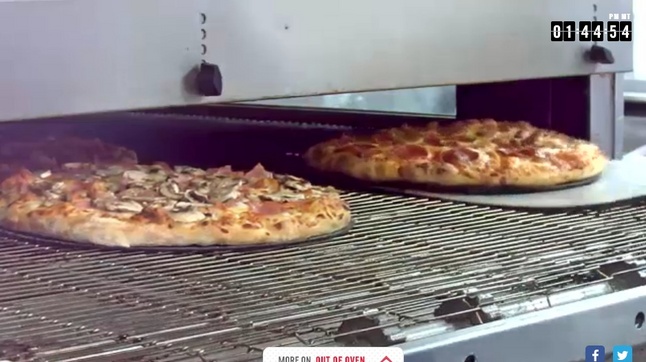 Dominoslive.com
Domino's Pizza
is telling customers it doesn't have anything to hide.
After installing five cameras at a Domino's kitchen in Utah, the company launched a Domino's Live website on May 1. Customers can watch a live video feed of the food being prepared in the store.
"At Domino's, we believe that when you make great food, you have nothing to hide," the Domino's Live website says.
The camera angles show the various stages of pizza making: where the dough is kneaded, when the toppings are applied and pizzas going into and out of the oven. Domino's is testing the video feature at the store in Utah during the month of May.
"People tuning into Domino's Live may be surprised with how much skill and action takes place during the middle of a Domino's store dinner rush," said Domino's spokesperson Chris Brandon.
The live video feed is an extension of Domino's Pizza's redesigned store concept, which the company started rolling out this year.
The newly designed stores feature open kitchens so customers can see employees spinning dough in the air and prepping pizzas. It includes interactive features such as a chalkboard for customers to write comments. The new store on Plymouth Road in Ann Arbor is one of the first in the country to feature the redesign.
"We at Domino's have made continued efforts to open our doors and be as welcoming as possible," said Russell Weiner, Domino's Pizza chief marketing officer, in a statement.
Melanie Maxwell | AnnArbor.com
"No matter what, we remain committed to being transparent and welcoming - and that is what this is all about," he added.
The Domino's Live launch also comes weeks after Domino's hosted a technology open house at its Ann Arbor Township headquarters in the Domino's Farms Office Park. The company is growing its various IT departments, with special emphasis on how to use technology to interact with customers.
The company introduced the online Pizza Tracker, which allows customers to follow the progress of their order as it's being made and delivered.
"Technology really empowers the business," Kevin Vasconi, Domino's Executive Vice President and Chief Information Officer, told the open house attendees.
If customers engage with the video feature, Brandon said the company could test it on other markets.
AnnArbor.com file photo
Lizzy Alfs is a business reporter for AnnArbor.com. Reach her at 734-623-2584 or email her at lizzyalfs@annarbor.com. Follow her on Twitter at http://twitter.com/lizzyalfs.