Posted on
Thu, Feb 14, 2013 : 5:59 a.m.
Domino's Pizza rolling out new look for its stores -- starting in Ann Arbor
By Lizzy Alfs
Taking a cue from his customers, Domino's Pizza CEO Patrick Doyle hopes to reinvent the pizza store experience.
The Ann Arbor Township-based company is rolling out redesigned stores in certain markets across the U.S., including the new location in the Traver Village Shopping Center.
"The fact is, better than one in three of our customers come into our stores for carryout," Doyle explained. "We just haven't been very welcoming to those folks in the past."
"What our customers told us they want is to be able to see us make the pizza," he continued.
The newly designed stores feature open kitchens so customers can see employees spinning dough in the air and prepping pizzas. It includes interactive features such as a chalkboard for customers to write comments.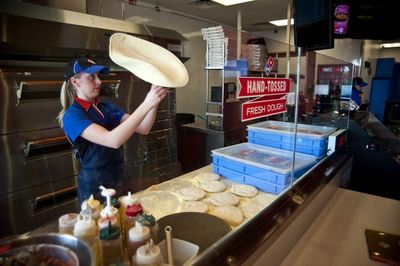 Joseph Tobianski | AnnArbor.com
"We're putting these great handmade pizzas up front and center and it's really kind of the old pizzeria tradition," Doyle said.
The new Ann Arbor store on Plymouth Road is one of the first Domino's locations in Michigan to feature the redesign. Franchisee Dave Cesarini relocated Domino's from Plymouth Road Mall to the neighboring Traver Village, and the store is having its soft opening this week.
With direct visibility off Plymouth Road, additional square footage and the updated look, Cesarini expects the new location will result in a sales bump. Cesarini owns several Domino's franchises.
"Once we launch this from the grand opening standpoint, our sales absolutely - and our customers - will increase," he said.
He added: "Being the first (redesign) in Ann Arbor and one of not many in the country is awesome."
The store will have a grand opening celebration in March.
Doyle said the company also is testing the remodeled concept in the Seattle market, and it could become the standard look for Domino's if customers have positive feedback.
The move is one of a series of changes for Domino's since the company overhauled its core pizza recipe in 2009. Doyle said transparency has been a goal for the company, which explains the multi-million dollar marketing campaign Domino's used to tell customers its old pizza product was subpar.
Since then, Domino's has rolled out a series of additional menu changes as it expands the brand, increases revenue and grows its store count. It opened its 10,000th store last year and reported a net income of $26 million during the third quarter of 2012.
Domino's also recently renewed its lease for more than 220,000 square feet in Ann Arbor Township's Domino's Farms Office Park where the company is headquarted.
So what's next on the agenda?
Doyle said Domino's will "never" stop updating and changing with its customers.
"You really can't," he said. "Customers change and evolve and you have to move with them and take your cues."
Lizzy Alfs is a business reporter for AnnArbor.com. Reach her at 734-623-2584 or email her at lizzyalfs@annarbor.com. Follow her on Twitter at http://twitter.com/lizzyalfs.