Posted on
Mon, Sep 24, 2012 : 5:41 p.m.
Domino's Pizza introduces handmade pan pizza
By Lizzy Alfs
Looking to compete with other companies on the market, Domino's Pizza debuted a new product on Monday: handmade pan pizza.
The Ann Arbor Township-based company, which redesigned its core pizza recipe in 2010, is now offering the pan pizzas at all of its nearly 5,000 U.S. stores, USA Today reports. It will launch a national advertising campaign on Oct. 1 to promote the new product.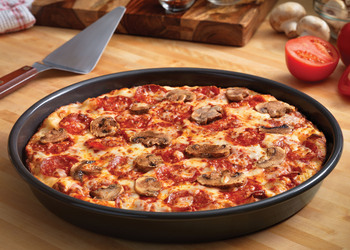 Courtesy photo
"There is a standard out there for pan pizza that we realized could be better," said Domino's CEO Patrick Doyle in a release. "The reason most people buy a pan pizza is for the crust, and that key component should be fresh, never frozen."
Pan pizzas, which are thicker than traditional pizzas, account for one of five pizzas sold nationally, Doyle said.
USA Today reports the move by Domino's takes a big swing at competitor Pizza Hut, which has offered pan pizza for 30 years.
Domino's reported a net income of $28.1 million for the quarter that ended June 17, up from $25.2 million during the same period in 2011.
Founded in 1960, the company operates a network of 9,924 franchised and company-owned stores in the U.S. and 72 countries worldwide.
Read the full USA Today report here.
Lizzy Alfs is a business reporter for AnnArbor.com. Reach her at 734-623-2584 or email her at lizzyalfs@annarbor.com. Follow her on Twitter at http://twitter.com/lizzyalfs.