Posted on
Tue, Jun 19, 2012 : 5:58 a.m.
Patrick Doyle: Pizza redesign could have been the end of Domino's
By Lizzy Alfs
Spending $75 million on a marketing campaign to tell the world you had a subpar product is risky.
It's even riskier when you're a 50-year-old company with 9,000 corporate and franchised stores and about 10,500 full-time workers.
But when Ann Arbor Township-based Domino's Pizza in 2009 decided to completely redesign its pizza recipe and ask consumers to give it a shot, CEO Patrick Doyle knew it was a dangerous gamble.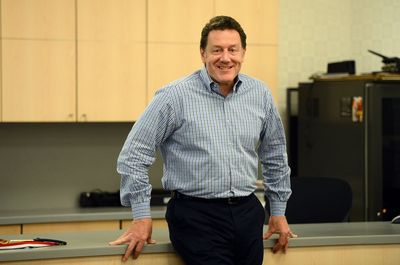 Melanie Maxwell | AnnArbor
"Let's be clear on this: If people tried (the pizza) again and they had a bad experience, we'd be done. They will never try it again," Doyle told a group of Domino's employees at the company's Pizza Prep School last week. Pizza Prep is a four-day intensive training program for all new corporate employees and franchisees.
Doyle was named Domino's Pizza's CEO in January 2010 after David Brandon resigned to become the athletic director of the University of Michigan. The process to redesign the pizza started under Brandon, and Doyle then steered the company through its launch.
Driven by flat same-store sales and store closures in 2009, Domino's used a six-week, $75 million marketing campaign to get a message across: its old pizza recipe just wasn't going to cut it anymore.
The advertisements highlighted real customer feedback — from people saying the crust tasted like cardboard to someone calling it the worst pizza they've ever had.
It also introduced the new core pizza recipe, which includes a garlic-seasoned crust, bolder tomato sauce and shredded instead of diced mozzarella cheese.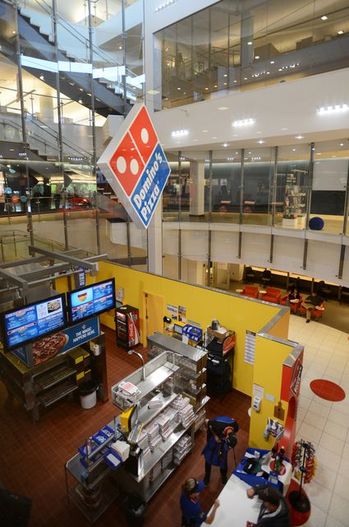 Melanie Maxwell | AnnArbor.com
Domino's spent 200,000 hours retraining employees at all of its U.S. locations as part of the campaign, and offered a money-back guarantee to consumers who didn't like the new recipe.
"We retrained every single pizza maker in the country," Doyle explained. "We brought 100 people in here for a week and trained them, and then sent them out and they each had 50 stores. They took them in groups of two or three stores a day and retrained every single one."
Since the pizza redesign, the company has rolled out a series of additional menu changes, including introducing chicken products, adding artisan pizzas, redeveloping the cheesy bread, adding Parmesan bread bites and offering gluten-free pizza crust.
Domino's spokesperson Chris Brandon told AnnArbor.com that since 2008, about 85 percent of the restaurant's menu is new or revamped in what he calls a "complete overhaul."
And so far, it seems to have worked in the company's favor.
Domino's was valued at $1.72 billion on Monday, based on a stock price of $29.72. It raked in 105.3 million in sales in its fiscal 2011 year, up 19.8 percent from 2010 when the company experienced a year of straight sales growth.
The company's fourth quarter profit in fiscal 2011 was $30.9 million, a 27.9 percent increase from the fourth quarter of 2010.
In the first quarter of fiscal 2012, the company's profit fell 24 percent, hurt by lower revenue and costs related to a debt recapitalization completed during the quarter. But revenue in restaurants open at least one year rose 2 percent domestically and 4.7 percent abroad.
Domino's also hit two company milestones this year: As of March 25, its international store count exceeded its domestic stores, and the company reached $1 billion in digital sales from April 2011 to April 2012, with online orders via its website and mobile ordering platforms accounting for 30 percent of total sales.
And Doyle said Domino's is still eyeing growth in untapped international markets, but also domestically. He said there is room for probably 1,000 more stores in the U.S., where Domino's is "committed" to continue growing.
Reflecting on the menu overhaul and risky marketing campaign, Doyle said Domino's has come a long way since the company "fell on the sword" and candidly asked consumers to give its pizza another chance.
And luckily for him — and his job — the decision paid off.
"We said we're going to throw the old pizza under the bus and the new pizza is more expensive…thankfully, it worked, otherwise my successor was going to have a really tough time fixing this," he joked.
Watch Domino's Pizza's "Pizza Turnaround" documentary from 2009 below.
Lizzy Alfs is a business reporter for AnnArbor.com. Reach her at 734-623-2584 or email her at lizzyalfs@annarbor.com. Follow her on Twitter at http://twitter.com/lizzyalfs.