Posted on
Mon, Nov 19, 2012 : 5:55 a.m.
Domino's Pizza plans to relocate and expand on Ann Arbor's Plymouth Road
By Lizzy Alfs
Looking to bring a better restaurant experience to his customers and employees, Domino's Pizza franchisee Dave Cesarini plans to relocate and expand his longtime Plymouth Road store.
Cesarini signed a lease to relocate Domino's from Plymouth Road Mall, where it has operated for decades, to the neighboring Traver Village Shopping Center, in the newly reconfigured space formerly occupied by Blockbuster.
The move will give Domino's more square footage and direct visibility off Plymouth Road.
"The location we are moving from served its functionality, but we need to catch up with the times," Cesarini said. "We're bringing a more social experience so customers can interact with our servers in a bigger, brighter, more comfortable site."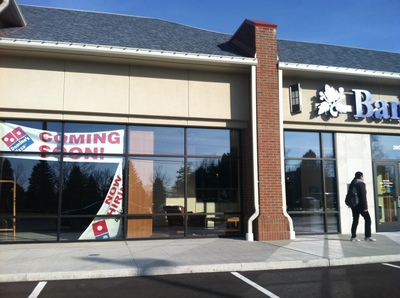 Lizzy Alfs | AnnArbor.com
To enhance that "social experience," Cesarini plans to have some seating and an open kitchen so customers can see servers making their food.
"When you walk in, you'll be able to see people press out the fresh dough and people topping pizzas," he explained. "We're hopefully going to have a lot more fun with spinning the dough in the air and interacting."
Last year, Traver Village landlord First Martin Corp. started the process to reconfigure the 6,960-square-foot former Blockbuster space. They relocated the site's frontage to face Plymouth Road, divided the space and constructed a parking lot and driveway in front of the retail building.
The goal, said First Martin's Chris Grant, was to attract tenants interested in smaller retail spaces. Bank of Ann Arbor has since moved from a space at the rear of Traver Village to occupy about a third of the former Blockbuster.
Cesarini said he plans to start construction work on his new space soon and hopes to open in January or February. His lease in Plymouth Road Mall expires in the spring, so he will operate that store until the new one is ready to open.
As part of the move, Cesarini plans to hire 10 to 15 employees in all departments — delivery, management and pizza makers. (Apply here)
"The landlord we had was great to us, I'm just excited to be visible on the road," he said. "Of all the projects I've done, I've never been more excited (as I am) about opening up this new location."
Vern Hutton is the owner of Plymouth Road Mall. It's unclear if Hutton has secured a new tenant for the Domino's space yet.
Lizzy Alfs is a business reporter for AnnArbor.com. Reach her at 734-623-2584 or email her at lizzyalfs@annarbor.com. Follow her on Twitter at http://twitter.com/lizzyalfs.