Posted on
Tue, Mar 2, 2010 : 7:30 a.m.
Domino's Pizza reports sales up 'significantly' after new recipe introduced
By Nathan Bomey
(UPDATED: 12:40 p.m. Brandon tells investors that response to recipe has been 'nothing short of fantastic.)

Ann Arbor Township-based global chain Domino's Pizza boosted its profitability in 2009 while experiencing slight growth at existing stores and strong results internationally, according to an earnings report released this morning.
The report reflects a fiscal year ended Jan. 3 and includes just a few days of sales for its new core pizza recipe, which was introduced nationwide Dec. 27.
But David Brandon, the outgoing Domino's CEO hired as the new athletics director for the University of Michigan, said the new pizza recipe is getting a warm reception.
The recipe, promoted aggressively through a national marketing campaign, was the result of two years of testing and product research. The sauce, cheese and crust were reconfigured in hopes of convincing consumers to give Domino's another shot.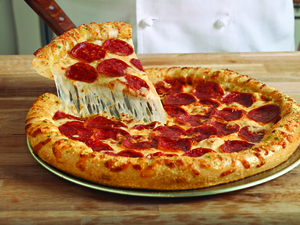 Photo courtesy of Domino's Pizza
Brandon said in a statement that sales were up "significantly" due to the new recipe. He told investors and analysts this morning that the market response to the new recipe has been "nothing short of fantastic."
"We are off to a very strong start in the new year," he said. "The trial of our new core pizza recipe has been very successful. Buzz about our media campaigns have been pervasive and both our sales and traffic have been up significantly since our campaign began."

Domino's reported an annual profit of $79.7 million, up 32.2 percent from $54.0 million in 2008. Executives will discuss the sales report on an earnings call with investors at 11 a.m. Shares of Domino's (NYSE: DPZ) rose 2 percent Monday to $12.74.

At company-owned and franchisee stores open at least a year, sales increased 0.5 percent compared to 2008.
The earnings report indicated that foot traffic to stores increased in late 2009 as consumers gained more confidence in the economy.
For the fourth quarter, Domino's reported $23.6 million in profit, up 114 percent from $11.0 million in the treacherous fourth quarter of 2008.
Domino's said store traffic increased steadily throughout the year. Also contributing to profits: Changes to the firm's debt structure and encouragingly low prices for commodities such as cheese.
"The story for Domino's Pizza in 2009 was one of a disciplined focus on the business and sales momentum that was building throughout the year," Brandon said.

Domino's reported adjusted earnings-per-share of $0.87 for 2009, up from $0.75 in 2008. The firm's reported total revenues in 2009 of $1.4 billion, down 1.48 percent from 2008 - although revenue figures for Domino's are not inclusive of the performance of the firm's franchisees.
The firm's global retail sales - a figure that includes revenue at company-owned stores and franchisee-owned stores - increased 2.2 percent in 2009. But that increase was attributable in part to a 53rd calendar week in 2009. Without it, global retail sales were down 0.3 percent.
Excluding the impact of foreign currency rates, however, global retail sales were up 4.6 percent in 2009 on a 52-week basis.
In 2009, Domino's reduced its number of U.S. company-owned stores by 23 to 466; reduced the number of U.S. franchise-owned stores by 97 to 4,461; and increased the number of foreign stores by 346 to 4,072. Globally, Domino's now has 8,999 stores.
Many of the stores Domino's closed were located in markets where economic prospects surged during the boom years of the last decade. Some stores in Arizona, for example, were shuttered.
"We feel like closing these underperforming stores was the right answer," said Wendy Beck, chief financial officer for Domino's.

Foreign stores continue to inject life into the firm's sales reports. Same-store sales at foreign Domino's stores increased 3.3 percent in 2009. That figure jumps to 14.4 percent if currency rate fluctuation is factored out.

Domino's does not provide projected earnings estimates, but the firm said in its earnings report that 1 percent to 3 percent growth in domestic same-store sales and 4 percent to 6 percent growth in global retail sales would be "appropriate and achievable over the long term."
Domino's employs about 500 workers at its headquarters in Ann Arbor Township and 10,500 full-time workers at its company-owned stores.
Contact AnnArbor.com's Nathan Bomey at (734) 623-2587 or nathanbomey@annarbor.com or follow him on Twitter. You can also subscribe to AnnArbor.com Business Review's weekly e-newsletter or the upcoming breaking business news e-newsletter.