Posted on
Tue, Mar 15, 2011 : 7:27 p.m.
Downtown Ann Arbor's Fifth Quarter bar listed for sale at $1.8 million
By Paula Gardner
The owners of the Fifth Quarter in downtown Ann Arbor recently listed the property for sale, signaling a possible shift in operations for the troubled bar and an opportunity for a buyer to reposition the building.
The Fifth Quarter building, located at 210 S. Fifth Ave., formerly housed the Ann Arbor 1&2 movie theater before it was turned into offices in the 1990s.
Now, as city officials target the troubled operation for possible non-renewal of its liquor license, the two-story building that houses the bar is available for an asking price of $1.8 million.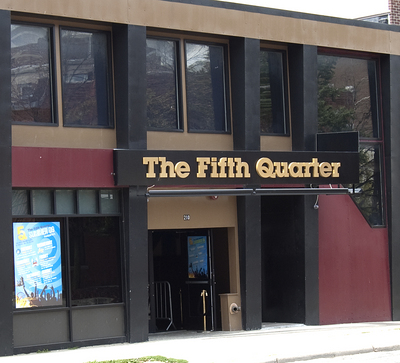 fifth quarter
The building is owned by 210 South Fifth Ave LLC, an entity registered to Jeff Starman. He wasn't available when I called his office to ask about the listing.
It's assessed at $956,400, giving it an estimated market value of $1.9 million.
Starman and his partnership bought the building in 2006 for an undisclosed price. The previous owner - Habra Enterprises - paid $1.5 million in 2001.
Listing broker Jim Chaconas of Colliers International said he hopes potential buyers see potential in the building and its proximity to downtown and campus.
"It's a great location right in the middle of town," he said.
The upper level already is outfitted as offices. Another potential use is conversion to residential lofts, he said.
"It's got ceiling height and 6 on-site parking lots," Chaconas said. "And there's already an elevator."
The property is 0.18 acres, and the building sits between a parking lot and an office building.
The listing says the bar business and its liquor license also could be available.
The Fifth Quarter property is one of two downtown Ann Arbor buildings on the market that house bars: The other is Nick's Cavern Club at 210 S. First St.
Owner Nick Easton listed the bar as the economy tanked, and he continues to operate it.
The market is improving, Easton said this week, so he's hopeful he'll find a buyer as lending becomes more available again. That building, with 4 floors in the converted warehouse and 21,000 square feet, is listed at $2.9 million.
Meanwhile, while the business future of the Fifth Quarter faces some hurdles - like a back tax debt of $159,361 from 2008 and 2009, according to Washtenaw County - the property itself could benefit as the economy rebounds, Chaconas said.
"It's a great spot now for redevelopment," he said. "... If somebody was really ambitious, they could make the main floor into parking and go higher."
Paula Gardner is Business News Director of AnnArbor.com. Contact her at 734-623-2586 or by email. Sign up for the weekly Business Review newsletter, distributed every Thursday, here.