Posted on
Tue, Mar 1, 2011 : 2:47 p.m.
Tax foreclosure numbers grow in Washtenaw County as property owners face March 31 deadline
By Paula Gardner
The clock reset today on Washtenaw County property owners who still owe back taxes dating to 2008: By March 31, if the bills remain unpaid, they'll lose the properties to tax foreclosure.
The list of properties facing the deadline include a downtown Ann Arbor office high-rise, a troubled downtown Ann Arbor bar, nearly three dozen townhouses in Ypsilanti Township's condemned Liberty Square and about 500 subdivision and condo lots.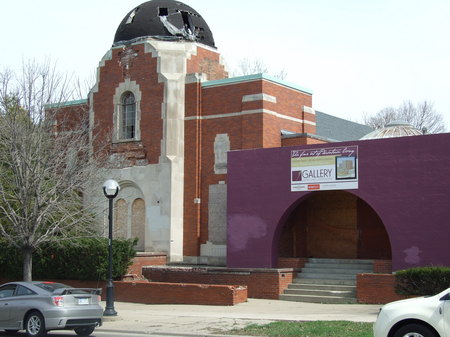 Paula Gardner | AnnArbor.com
How many of those properties will reach a tax foreclosure auction later this year won't be known until the
Washtenaw County Treasurer's office
closes on March 31.
Yet so far, the numbers of properties affected are ahead of last year's record-setting pace, said Treasurer Catherine McClary.
"There's an increase in volume and a drop in redemptions," she said Monday.
By today, three different tax years converge on the calendar:
• Anyone with unpaid taxes from 2008 are in tax foreclosure and have until March 31 to redeem the property with full payment. • Any unpaid 2009 taxes now move into forfeiture, and the unpaid balance is subject to increased penalties, including an interest rate of 18 percent, which retroactively affects the full balance. • All taxes that went uncollected by municipalities in 2010 are being turned over to the county for collection, with fees including a 12-percent interest rate.
Last year's tax foreclosure included 515 properties - or 55 percent of all the properties facing tax foreclosure since 1997.
This year, the tax foreclosure season started with 807 properties on the list.
Of those, McClary said, "550 are undeveloped subdivision sites."
And after talking to developers, lenders and other agents for the properties, she's realized that last year's situation with two banks letting undeveloped property go to auction is bound to be repeated this year.
Last year's auction included 218 lots in Wellesley Gardens condos went to auction - with multiple price drops - and 31 acres in Uptown Village in Milan.
Unbuilt projects with multiple lots that entered the tax foreclosure process this year include Lincoln Pines condos in Augusta Township, York Meadows in York Township, Diuble Meadows, Lakewood Villas and Lakewood Estates in Ypsilanti Township and Rivergrove Townhomes.
"We believe the banks will pay on 150 of them," she said, meaning that at least 400 lots will head to auction later this year.
The volume comes with a determination by the lenders, she said, "that undeveloped land is no longer worth developing."
That's not a surprise to Ann Arbor developer Ed Shaffran, who's watching the housing slowdown continue - and continue to affect the developers who are holding the thousands of developed lots and vacant land in Washtenaw County.
"The bank must be saying, 'What are we going to do with them?'" he said. "With all of the overbuilding that we experienced, I think the banks are finally stepping up and saying, 'we're done.'"
If the answer is just pay the holding costs for multiple years, the alternative has to be appealing, he said. That's true especially if they've already written off the loan.
"If they don't pay taxes, they're done with other liabilities," Shaffran said.
Commercial properties also have crept onto the tax foreclosure list in recent years, like in 2010 when a vacant gas station in Ann Arbor went to the highest bidder in the county's online auction.
This year's list of commercial properties also includes development projects that have gone unbuilt. However, since January, several owners or lenders have made payments on some key properties.
Among them:
• The former Greek Church on North Main and West Towne Condominiums, both Mike Concannon projects. • Property in Milan owned by REI, which once was planning a massive residential and commercial project. • Glen Ann Place, a total of five undeveloped parcels near the University of Michigan medical campus. • Hillside Terrace, a senior residence west of downtown Ann Arbor; owners averted a tax foreclosure with a $100,303 payment on Feb. 4.
Yet several commercial buildings remain on the list across various communities.
They include:
• 201 E. Washington, the Washington Square office building, which has outstanding debt of $89,913 dating to 2006, according to county records. • 210 S. Fifth, operating as the Fifth Quarter, which owes $159,361 for both 2008 and 2009. Owner Jeff Starman said by e-mail that he'll make the payment by March 31. • 435 W. Eight Mile at US-23 near Whitmore Lake, a former factory that was demolished for development. Owner Earl LaFave owes $120,782 from 2008, according to county records, and $216,132 through 2009.
Some owners are letting tax payments slide to buy them time during the economic downturn, McClary said. It's an expensive option, developers say.
"There are some local people who have overextended," McClary said. "… They're probably making a decision to pay or not to pay. If the decision is to pay, they'll be scrambling every which way to come up with the money."
Many residential properties also are on the list - including 33 more townhomes in Liberty Square, which was partially auctioned in 2010 - just before Ypsilanti Township started condemnation proceedings.
The auction is a formality, just as the redemption period before it: "It's every person's right to redeem," McClary said.
While investors may consider the tax foreclosure auction to be a good source of discount real estate, the month before the March 31 deadline also may be filled with concern among individuals who face losing homes.
McClary said she withheld 547 properties from foreclosure this year, "and the vast majority was for financial hardship."
She stressed that the county is prepared to help individuals faced with having to move from their home, whether owned or rented.
"We will help tenants move to other housing," she said.
Paula Gardner is Business News Director of AnnArbor.com. Contact her at 734-623-2586 or by email. Sign up for the weekly Business Review newsletter, distributed every Thursday, here.