Posted on
Wed, Feb 13, 2013 : 5:58 a.m.
Downtown Ann Arbor's Kuroshio restaurant gets liquor license, opens for lunch
By Lizzy Alfs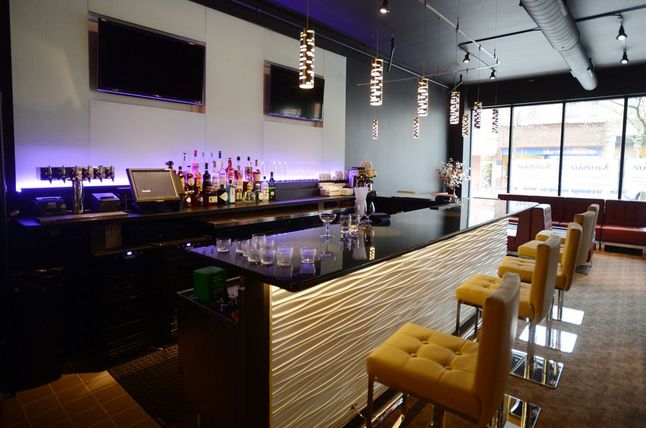 Melanie Maxwell | AnnArbor.com
Kuroshio
general manager
Alan Wang
learned it's not easy operating an upscale restaurant in downtown Ann Arbor without a liquor license.
The restaurant opened on the corner of East Liberty and South Fourth in December without the ability to serve beer, wine and liquor, and Wang said it's had a "big impact" on business.
"We had signs on our doors and our hostess was always letting people know who walk in that we (didn't) have our liquor license, and almost half, if not more, would decide to go try other restaurants," he said.
But after Wang picked up the license in Lansing on Friday, the Asian fusion restaurant is now offering a wine menu and specialty cocktail menu. Kuroshio also started serving lunch on Monday.
"I'm very excited," Wang said.
The lunch menu costs between $9 and $14 per person and Wang called it "drastically" different than the dinner menu. He said the menu emphasizes "quick and easy" rice and noodle dishes. The full sushi menu also is offered during lunch.
Wang is still looking to hire sushi chefs and he's made several tweaks to the restaurant based on customer feedback.
"We've been continuously changing our presentation…we're listening to our customers," he said.
He added: "Feedback is always welcome."
Kuroshio replaced the former Champion House restaurant at 120 E. Liberty St. Wang and his parents, Kenneth and Grace, completely transformed the 3,800-square-foot space into a contemporary upscale restaurant and bar after signing a lease for the space in March 2012.
The restaurant's new hours are Monday through Wednesday from 11:30 a.m. to 10 p.m.; Thursday through Saturday from 11:30 a.m. to 1 a.m.; and Sunday from noon to 9 p.m. Lizzy Alfs is a business reporter for AnnArbor.com. Reach her at 734-623-2584 or email her at lizzyalfs@annarbor.com. Follow her on Twitter at http://twitter.com/lizzyalfs.