Posted on
Thu, Dec 27, 2012 : 5:59 a.m.
Asian fusion restaurant Kuroshio to open Friday in downtown Ann Arbor
By Lizzy Alfs
Customers won't find any remnants of the former Champion House restaurant when the building's new tenant, Kuroshio, opens its doors on Friday.
Ann Arborite Alan Wang and his parents, Kenneth and Grace, plan to open their contemporary Asian fusion restaurant on the corner of downtown Ann Arbor's East Liberty and Fourth Avenue at 4 p.m. Friday following months of renovations.
The 3,800-square-foot space has been completely transformed, including exterior improvements with new awnings and windows.
"I was going for a modern, contemporary Asian feel, with textured walls, wave patterns, all LED lighting, a couple TVs for when there is an important game on, and a lounge area for late-night or happy hour crowds," Wang said.
"Everything is new," he added. "The entire kitchen is new, too."
The Wangs signed a lease for the space in March after Champion House closed abruptly in January.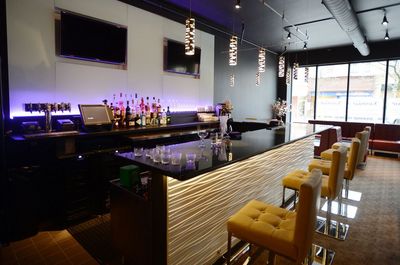 Melanie Maxwell | AnnArbor.com
Due to certain building code issues, they decided not to use Teppanyaki-style cooking — where food is prepared on a flat grill in front of the customer — at Kuroshio.
"People will be surprised once they walk in our doors and see (Kuroshio) is a completely different concept and everything is different," Wang said.
Although the restaurant is still waiting on its liquor license from the state, Wang hopes it will be able to serve alcohol in the next few weeks. The restaurant has a full bar and a sushi bar area where fresh fish will be displayed.
Wang is still finalizing the menu, but said it should be available on the website this week. He said 70 percent of the menu will have a Japanese influence, while other influences include Korean, Thai and American. Along with sushi and sashimi, dishes will include a filet mignon with a wasabi-based sauce, deep-fried soft shell crab and jumbo scallops with miso curry sauce.
"Our head chef has about 30 years of Japanese cooking experience, and he was trained at the age of 15 by a Japanese chef in Hong Kong," Wang said.
The restaurant, he added, is a "bit more upscale" and priced similar to other South Main Street restaurants.
Kuroshio will be open only for dinner during the first few months, and then plans to expand into the lunch business after March. Wang said he's looking to hire 10 to 15 additional employees in the meantime. (Apply here)
Kuroshio's opening comes as several new restaurants are working on build-outs in the downtown area. Both Isalita and Vellum are aiming to open in the next couple weeks.
As for the competition, Wang is viewing it with a positive attitude: "I think we are all our own specialties, and then as a big group, I think it's great for the downtown environment to have so many (dining) options."
Lizzy Alfs is a business reporter for AnnArbor.com. Reach her at 734-623-2584 or email her at lizzyalfs@annarbor.com. Follow her on Twitter at http://twitter.com/lizzyalfs.