Posted on
Fri, Jan 21, 2011 : 5:58 a.m.
Coming soon: New outdoor food cart dining area next to Downtown Home & Garden in Ann Arbor
By Janet Miller
Mark Hodesh, owner of Downtown Home and Garden, will return to his roots this spring when he offers an open-air courtyard of seasonal food carts behind his popular retail location on South Ashley Street in downtown Ann Arbor.
Hodesh, who operated the Fleetwood Diner decades ago in its early days, is turning the single-story Union Building, 208 W. Liberty, he owns behind Downtown Home and Garden into a commercial kitchen and will rent space to up to 10 independently owned food cart operators on a small parcel of land behind his store.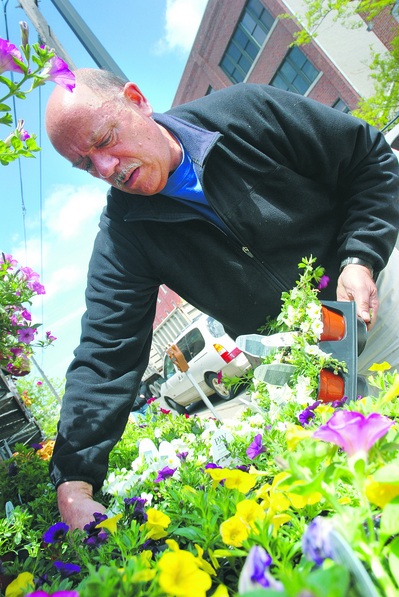 AnnArbor.com files
The idea came to him late last summer, after the long-time tenant of the Union Building left. The 3,000-square-foot building is being renovated to accommodate a commercial kitchen, which will be used by the cart owners, Hodesh said. Half of the building will be dedicated to the kitchen.
Cart owners will pay a single fee, which has yet to be set, to use the kitchen and rent space in Mark's Carts.
Mark's Carts will occupy a 2,700-square-foot parcel of vacant land that fronts West Washington Street, behind Downtown Home & Gardner. The area will be fenced, landscaped and lighted, and will include seating.
"It will knit together the area," Hodesh said.
While the food carts won't begin operation until April for this season, Hodesh wants future seasons to run from March to late November. The area will include some covering but will not be enclosed. Work on the area began in late fall but halted with the winter weather.
While he has not yet signed leases with the food cart operators, Hodesh has had strong interest.
Possible operators include Asian street food such as steamed buns, Korean barbeque, wood-fired pizza, hand-made tacos, grilled cheese and soup and vegan/vegetarian. While each cart owner will set their own hours, Hodesh said he expects breakfast, lunch and dinners to be available. Hodesh said he expects to begin signing leases in February.
It will be chance for people thinking about opening a restaurant to test the waters, an opportunity for displaced workers looking for a career change to begin a business without expensive overhead and a chance for young people enthusiastic about food to try their hand, Hodesh said.
"It can be an incubator."
It will also be good for the neighborhood, creating more foot traffic for Downtown Home and Garden and other businesses, Hodesh said. "There will be more people on the block."
It will also be a smooth transition between the residential and downtown neighborhoods, he said.
"And it's a great use of city property that's in a dead zone."
The land is too long and narrow for commercial construction, especially with the current economic climate, Hodesh said.
The property where the carts will be located was once owned by the city and used for the third floor ramp to the adjacent parking structure. When the parking structure was razed, Hodesh purchased the property. It has come full-circle.
The house of Herman Hertler, one of the owners of the original Hertler Brothers feed and seed store, which occupied the Downtown Home and Garden space, at one time rested on the land.
Mark's Carts isn't the only change coming to Downtown Home and Garden this spring. Hodesh won city approval last fall for construction of a second greenhouse that will be connected to the west side of his store.