Posted on
Wed, Mar 6, 2013 : 5:58 a.m.
Ann Arbor's restaurant 'eat' expands menu with TV dinners, pot pies and pantry items
By Kody Klein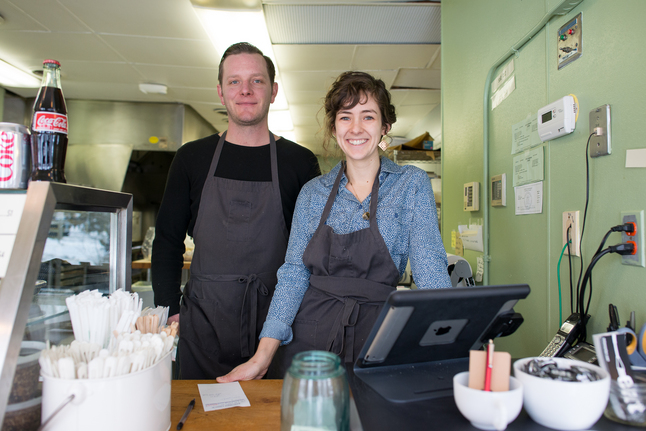 Courtney Sacco I AnnArbor.com
If you saw a sign outside a restaurant that said, "new
larder
menu," you'd probably think it was either a typo or a pun, right?
Wrong.
"It's an old-fashioned name for a pantry," said Helen Harding, co-owner of Ann Arbor's eat restaurant — the official name of which is spelled with a lower case "e."
Harding and her partner, Blake Reetz, are officially offering a new "larder menu" at their shop at 1906 Packard St., which opened November 2011. The menu offers the same handmade cooking items — such as stocks, jams and dressings — that Harding and Reetz use in eat's catering and restaurant options.
"People already eat them on our sandwiches," Harding said. "I think it's nice for people to be able to incorporate those into their own cooking."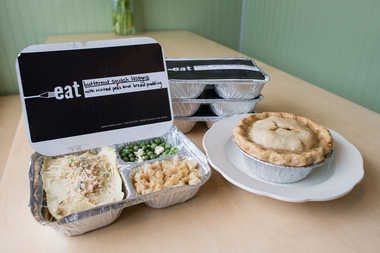 Courtney Sacco I AnnArbor.com
In addition to the larder menu, EAT will now be offering pot pies and TV dinners.
"We wanted to give people a way to enjoy our food in a different format," Harding said. "The TV dinners came about because we were talking about convenient food and how awesome TV dinners were except they never were as good as you wanted them to taste."
Harding said their TV dinners may look like the classic trays from the grocery store, but EAT has made a few changes.
"It's made from scratch, has good ingredients, and doesn't have any preservatives," she said.
The dinners and the pot pies range in price from $4 to $13, and the TV dinners are $8.75 or two for $17. Harding said unlike traditional meals, their TV dinners are not microwaveable and that new items have been successful so far.
"I've had people bring them to friends who just had babies or relatives who are getting out of the hospital who can't cook for themselves," she said. "...I bring them home because sometimes I'm eating alone and don't want to deal with cooking."