Posted on
Sun, Apr 21, 2013 : 5:56 a.m.
Eden Foods president says decision to sue Obama administration driven by small government ideology
By Ben Freed
Natural food company Eden Foods will appear in U.S. District court on May 10 to challenge the the Obama administration over the Affordable Care Act's mandate that companies provide contraceptive medications as part of their standard health care plans.
In the lawsuit, the company cited first amendment rights and president and co-founder Michael Potter's Roman Catholic beliefs to explain its objection to the new health care mandate.
Eden, founded in Ann Arbor in the late 1960s, failed to obtain an immediate temporary restraining order in its lawsuit that was filed near the end of March. The suit has led to a strong social media backlash in comment boards of news websites and on the company's Facebook page.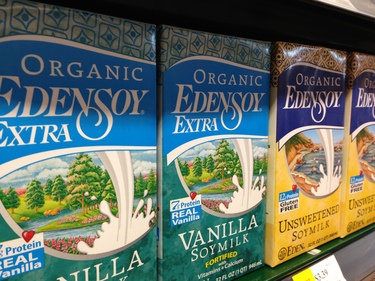 Ben Freed | AnnArbor.com
Potter said he personally spent nearly three weeks discussing the decision to file the case with his board of directors, department managers, and individual employees. In the end, he cast the tie-breaking vote in a directors meeting to proceed with the lawsuit.
Potter spoke with AnnArbor.com to explain why he decided this lawsuit was the right course of action for Eden Foods and how customers have responded.
AnnArbor.com: What was the feedback you received from employees while you were determining whether to proceed with the lawsuit?
Michael Potter: I heard strong reactions to it back and forth throughout the time I was talking with people. It's not the type of issue that leaves people sitting on the fence.
AnnArbor.com: What have you heard since the suit was filed?
Potter: I've heard a lot from the staff about the feedback and reaction from the general public once they heard about it. That happened pretty quickly.
AnnArbor.com: Have the comments from the public been more positive or negative?
Potter: We've heard a lot of both, supportive and against us. The majority of the feedback has been against us but I think that component of the population is a little more aggressive in responding. We've had thoughtful comments, hateful comments, intelligent comments, and ludicrous comments.
The threads out there on social media have been particularly bad… It's been a lightning rod for a lot of vitriol and a lot of unpleasantness and I must say I'm disappointed in it.
AnnArbor.com: Are you concerned about what the economic impact might be to the company from the public reaction?
Potter: I certainly am concerned about that. There have been a lot of threats and declarations of boycotts on the Internet so that's certainly alarming. The negativity surrounding us doing this… we all come to work to project Eden Foods in a good light and to have ended up precipitating this negative thing is disheartening.
At the same time, the economic impact remains to be seen. We've had some people saying they'll buy more and a lot of people saying they won't buy anything. It remains to be seen how it all plays out. For every negative feedback there could be 110 more people thinking negative thoughts, for every positive there could be 200 thinking positively or just 10. We really have no insight yet at this point, it's too early to tell.
I can say that I am concerned about the impact it will have.
AnnArbor.com: Did you consider the potential economic blowback as part of your decision making process in filing the suit?
We did consider it, but we felt that most importantly we had to do the right thing. It was suggested to me that we be careful about offending part of our customer base and my reaction to that was and continues to be that once you start abandoning your principles it can be a pretty slippery slope from there.
AnnArbor.com: And why was this the right thing to do?
Potter: We had to object to the blatant government overreach that we saw happening. The government is just walking on the rights of companies and individuals who are trying to exercise their lives consistent with their conscience.
The affront to the exercise of religious practices is quite obvious, there's obviously some conflict there. We felt that the safe thing to do would have been to be an ostrich and stick our head in the sand, but we decided not to do that.
… An obvious question that this overreach of government gives rise to is what's next? OK, now birth control, then the counseling that encourages abortion and sterilization, and contraceptives, I have to pay for this? What's next? I have to buy your raincoat? Your spare tires? Your weed killers?
AnnArbor.com: So for you is this more a question of religion or small-government ideology?
Potter: It's hard to separate the two, but it's more of the principal. Is this a right action or wrong action? It seems quite clear on the face of it that it's wrong action by government. If they say something is necessary and they provide the funding, that's one thing, but if they say you have to do this and you have to pay for it that's something that's completely different and that's in violation of the law.
…We are not trying to get contraceptives out of Rite Aid for goodness sake. This is about trying to stop government overreach and telling them that they cannot tell people how to act.
…We provide our employees with good quality Blue Cross Blue Shield insurance with dental care and vision, and a 50 percent match on 401k. These are good benefits. I've been accused of being greedy. We're not greedy, and we try to manage our employee benefits in a manner that is sustainable over the long term.
Ben Freed covers business for AnnArbor.com. You can sign up here to receive Business Review updates every week. Reach out to Ben at 734-623-2528 or email him at benfreed@annarbor.com. Follow him on twitter @BFreedinA2