Posted on
Thu, Aug 1, 2013 : 5:59 a.m.
Edwards Brothers Malloy's consolidation means prime redevelopment opportunity on State Street
By Lizzy Alfs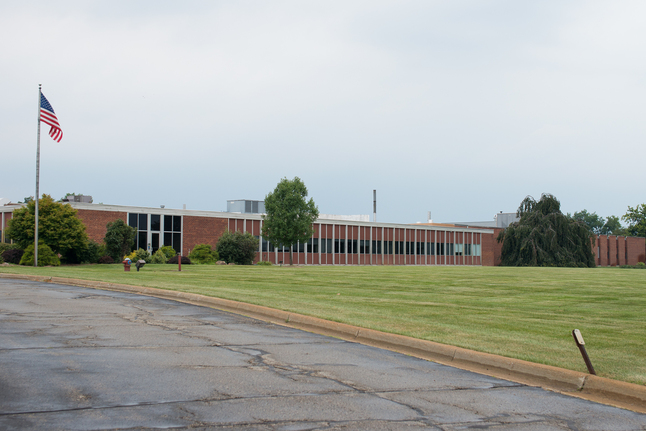 Courtney Sacco | AnnArbor.com
Related story: Ann Arbor book manufacturer to sell prominent South State Street facility
Edwards Brothers Malloy's plan to sell its 16-acre South State Street property creates a rare redevelopment opportunity on one of Ann Arbor's most heavily trafficked corridors.
Developed in 1954, the 185,000-square-foot manufacturing plant at 2500 S. State St. has acres of vacant land west of the building that fronts State Street and is located just north of I-94. It's one of the largest undeveloped parcels in the area.
"This is the last big piece that's left, especially on State Street," said Jim Chaconas, a commercial real estate broker with Colliers International. "The real estate value has gone way up, so they'll have no issue with selling that."
The property is zoned limited industrial, but redevelopment would fit with the city's vision for the site. The recently adopted South State Street Corridor Plan identifies residential and office as appropriate future land uses.
Edwards Brothers Malloy's property is nestled between the University of Michigan's State Street Commuter Lot and the university's athletic compound that includes soccer, tennis, gymnastics and wrestling facilities. A road behind the Edwards Brothers building connects the U-M properties.
"This is a prime site, obviously," said Neal Warling, a commercial real estate broker with Jones Lang LaSalle. "Obviously, having the university surrounding it, it's natural if they're looking (to purchase it), but it's certainly a prime site for redevelopment. Probably, primarily office space."
Edwards Brothers Malloy, a 120-year-old book printing company, announced on Tuesday that it plans to close the South State Street facility and consolidate operations with the company's 180,000-square-foot facility at 5411 Jackson Road. The company expects the move will better position it to grow in the digital printing realm — a side of the business that's experiencing growth.
Joe Upton, Edwards Brothers Malloy's vice president of sales and marketing, said the company expects to start marketing the State Street property for sale in coming weeks. The consolidation is expected to take six to 12 months.
"The State Street property is more valuable real estate than Jackson Road, so if we're going to sell one, it made sense to sell that property," Upton said.
City of Ann Arbor records show the State Street property has an assessed value of $3,069,200 for the 2013 taxable year. The company paid $182,266 in property taxes for the State Street site in 2012.
"We've been approached by a couple of developers with a variety of options that they're considering, but as of now, we have not entertained any serious offers," he said. "We've just had some casual interest."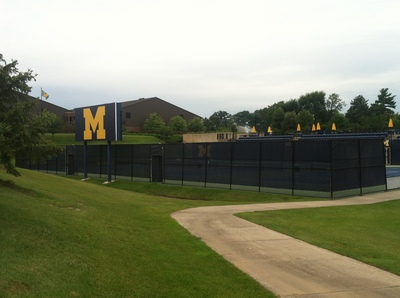 Lizzy Alfs | AnnArbor.com
He said U-M expressed interest in the property several years ago, but the university has not made an offer on the property.
In 2012, Michigan Athletic Director Dave Brandon announced a plan to pour $250 million into non-revenue sports facilities over the next decade, including the construction of a lacrosse facility. He said the university is constrained in its growth near its main athletic campus, but there is room to expand to the south.
Brandon could not be reached to comment about whether the university would consider purchasing the Edwards Brothers Malloy property.
Jim Kosteva, the school's director of community relations, said: "The university always carefully considers strategic property opportunities, but we have no additional comment to offer about the speculation on this particular site."
Contingent on city approvals, Ann Arbor City Planner Jeff Kahan said the Edwards Brothers property could be redeveloped for various uses, including multifamily or office. The city's Master Plan does not support a retail redevelopment at the site.
"The plan does not support a large retail component," he said. "We think South State Street is pretty well served by retail. …However, if someone wanted retail, they would need to convince City Council of that."
Warling said there's demand for high-end office space in Ann Arbor, but it's difficult for developers to get those projects financed right now.
Added Rob Aldrich, president of Ann Arbor's MAV Development Co.: "Currently, the metrics to build new office space are challenging. It's difficult to make a project financially feasible given the cost of an office project compared to the rent you can achieve. But that's just a snapshot of today. I think, over time, that can obviously change as rental rates increase, which we're starting to see signs of."
Chaconas called the property a "great apartment site," and said developers are starting to propose multifamily projects in Ann Arbor because vacancies are low.
Because the property is adjacent to a U-M athletic compound, Aldrich said developers might see potential for a student housing project on the site.
"It's a choice site and one of the few remaining in the city, certainly of its size," he said. "I would say it's going to get a lot of attention in the next several months."
The map below shows a rough outline of the Edwards Brothers Malloy property at 2500 S. State St., outlined in red, surrounded by University of Michigan-owned property, outlined in yellow.

View Edwards Brothers Malloy in a larger map
Lizzy Alfs is a business reporter for AnnArbor.com. Reach her at 734-623-2584 or email her at lizzyalfs@annarbor.com. Follow her on Twitter at http://twitter.com/lizzyalfs.