Posted on
Fri, May 25, 2012 : 8:22 a.m.
Polly's Country Market in Saline to close
By Paula Gardner
Polly's Country Market in Saline will close by June 19, according to employees who said they were told they could apply for transfers to other stores in the Jackson-based chain.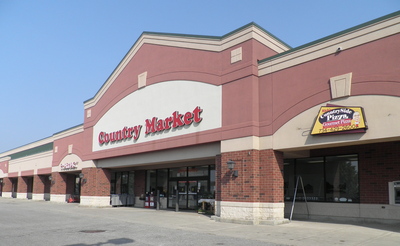 Lizzy Alfs | AnnArbor.com
Todd Kennedy, part of the family ownership group of Polly's Food Service Inc., said late Thursday that he expects the company to release a comment on Friday. He would not confirm the closing.
However, employees said they were told in two meetings on Thursday - one for the morning shift, one for afternoons - that several circumstances were driving the decision to shutter the grocery.
They include, according to employees, state and federal taxes and overhead costs at the store. It's located at 1335 East Michigan Avenue at North Maple on the east side of the city and just one mile from the Walmart store in Pittsfield Township.
The closing comes "as a result of inflationary rent, higher property taxes and escalating payroll taxes and insurance coverage costs," according to a letter dated May 21 that was distributed on Thursday to employees and signed "Human Resources Department."
Store officials said in 2011 that the Walmart opening cost Polly's about $1 million in annual sales, or about $25,000 per week.
Some employees speculated that increased competition from the Costco that will open in Pittsfield Township in June prompted the move now.
The closing affects an estimated 70 employees. They are being given applications for positions at stores in Dexter, Chelsea, Brooklyn or Adrian.
However, according to the letter, "we cannot assure all applicants of a position at an alternate location or guarantee their seniority within that location."
The store will close to the public by June 19, according to the letter, with some employees working until June 30 to vacate the premises.
Polly's Country Market operates 9 stores outside of the Saline location, according to its website. It opened in Saline after it took over the closed Farmer Jack in 2007.
The property is owned by Sauk Trail Commons LLC, according to real estate records. The shopping center was valued at about $10.6 million in 2011, when it generated just under $320,000 in property taxes.
State records indicate the business is "active but not in good standing" as of 2007.