Posted on
Wed, Jun 15, 2011 : 5:58 a.m.
Encore Recordings owner to retire but downtown Ann Arbor store will remain open
By Lizzy Alfs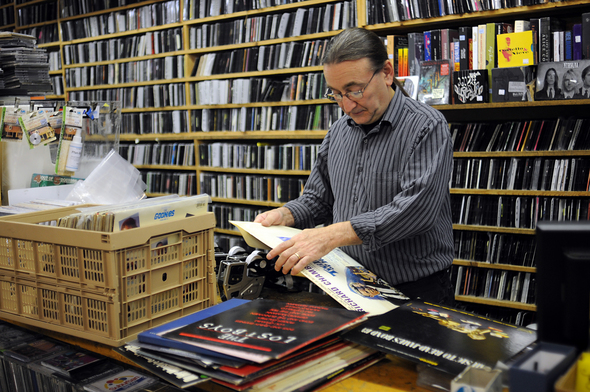 Melanie Maxwell | AnnArbor.com
Peter Dale
, the longtime owner of downtown Ann Arbor shop
Encore Recordings
, plans to retire by the end of the month — and, after Dale struck a deal with two of his employees, the long-time record store will remain open.
The store, located at 417 E. Liberty St., has been a fixture in downtown Ann Arbor since it opened at its current location as the Liberty Music Shop about 50 years ago. Dale has been the owner since 1993.
Dale said his last day will be June 30. After that, two Encore Recordings employees will assume the final two months of his lease. The employees, Jim Dwyer and Bill McClelland, purchased his store's inventory and have already signed a new lease with building owner Ruth Fitzgerald that begins in September.
Although it will technically be a new business, Dale said the record store will remain the same under a slightly new name: Encore Records. The record store will stay open during the transition.
"They are an entirely new entity," Dale said. "It's a clean break for me, but things will stay largely the same at the store. Most people will not even notice that the store has changed owners."
Soon-to-be owner McClelland agreed and said Encore Records will keep most of the same employees and make few changes to the store.
"I don't want to change it too much," McClelland said. "I like it the way it is and I just want to keep this place going. I really just couldn't see Ann Arbor without it."
Dale said there is a tradition of the business changing hands between employees at the record store.
"Each time the business has been purchased, it's been purchased by employees," Dale said. "It goes from one employee to another and this continues that tradition."
Dale started working at the store when he was an Ann Arbor High School student in 1966. The original Liberty Music Shop opened in 1939 at 205 E. Liberty St., before moving to the Encore Recordings location in the 1960's.
Through the ups — being named one of the top 25 record stores in the country by Rolling Stone magazine — and the downs, including a tough economy and the digitization of music sales, Dale said he's had a great ride at the store.
Now, Dale said he's ready to apply himself to other things, mainly charitable work in the city of Detroit.
"This is just a logical time for me," Dale said. "I'm ready to move on to other things."
Although Dale acknowledged that many record businesses are struggling in light of the Internet music industry, he said 2011 has been the best year for Encore Recordings since before 2005.
"The record and CD business has been in a decline since the beginning of the century," Dale said. "But the thing that has saved us is records. That's where our profit is made and this has been a good year."
He said he hopes the new Encore Records will remain a staple in Ann Arbor because the business is a "treasure."
"It's really important that this store survive for Ann Arbor," Dale said. "It's not healthy for Ann Arbor to have nothing but food places. There has to be something to draw people downtown and this is an important part of that."
Lizzy Alfs is a business reporter for AnnArbor.com. Reach her at 734-623-2584 or email her at lizzyalfs@annarbor.com. Follow her on Twitter at http://twitter.com/lizzyalfs.