Posted on
Thu, Dec 23, 2010 : 6:01 a.m.
Evangelical Homes of Michigan exploring possible long-term care partnership with St. Joseph Mercy Health System
By Nathan Bomey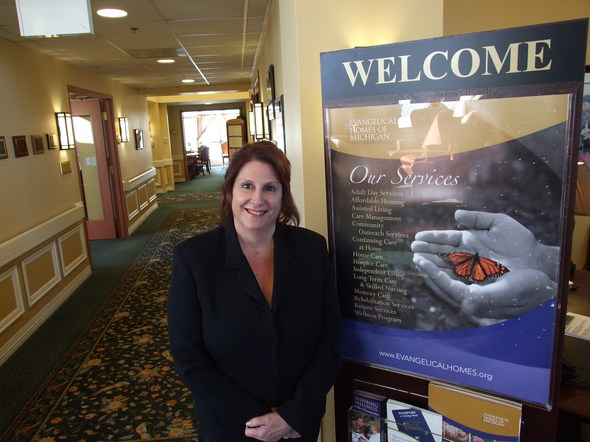 Nathan Bomey | AnnArbor.com
Long-term care provider
Evangelical Homes of Michigan
, one of the Ann Arbor region's largest health care employers, is exploring a possible partnership with
St. Joseph Mercy Health System
, an executive told AnnArbor.com.
EHM believes that strategic relationships with other health care systems would lead to better coordination of care and fewer hospital readmissions for its senior residents, CEO Denise Rabidoux said in an interview.
The discussions are partly a response to the federal health care reform law, which gives economic incentives to health care providers that establish so-called "accountable care organizations" in which providers coordinate services to reduce the chance that a patient will need expensive services in the future.
Health care systems and senior service providers need to coordinate care to reduce the chances that senior citizens will be readmitted to hospitals, Rabidoux said.
"Suddenly senior care services providers are a very valuable and instrumental role in helping achieve the goals of health care reform," she said.
Evangelical Homes of Michigan employs about 460 workers at a nursing home, retirement community, assisted living center and memory care facility in Saline. The 131-year-old nonprofit, which is affiliated with the United Church of Christ, also has about 125 workers who work out of a corporate office on Briarwood Circle in Ann Arbor. Overall, the group has more than 1,000 employees and serves more than 2,000 seniors.
Evangelical Home Saline, a nursing home, is located directly adjacent to the St. Joseph Mercy hospital in Saline.
A partnership with Ann Arbor-based St. Joseph Mercy Health System, a unit of Catholic health care group Trinity Health, is unlikely to take shape in the form of a sale, Rabidoux said.
Instead, she envisions an arrangement in which bundled payments would flow from insurance providers to the health systems, which would turn around and distribute funds to Evangelical Homes of Michigan.
Rabidoux said coordinated care between doctors at the health systems and nurses at Evangelical Homes of Michigan would help fight afflictions that disproportionately affect senior citizens, including chronic obstructive pulmonary disease, congestive heart failure and diabetes.
"It's all about controlling readmission to the hospital after transfer to our organization," she said.
A spokeswoman for SJMHS confirmed that the health system is in discussions with Evangelical Homes of Michigan. St. Joe's has officially finished its acquisition of Ann Arbor-based physician network Integrated Healthcare Associates and is in the process of acquiring Superior Township-based cardiologist network Michigan Heart PC.
It's unclear whether other local long-term care providers are also exploring possible partnerships with major health care systems. Representatives from several local long-term care providers did not respond to requests for comment.
But analysts say health care reform may draw hospitals and long-term care organizations to coordinate better.
"As long-term care providers try to figure out how they fit, hospitals are wondering if they fit with them," wrote Anthony Cirillo, president of Fast Forward Consulting, in an article for long-term care publication McKnight's.
"Long-term care providers are scrambling to figure out the implications" of health care reform, he added.
While pursuing partnerships, Evangelical Homes of Michigan is simultaneously expanding the services it provides to retirees who are still living in their own homes.
The group this spring established two subsidiaries, LifeChoices and LifeChoices Solutions, to offer new health services to people still at home. To enroll in LifeChoices, people 60 and older pay a one-time upfront fee of $35,000 to $50,000 and monthly fees of $200 to $400, Rabidoux said. They get wellness services through a lifestyle coach, and EHM pays 100 percent of their costs if they have to move into a senior service facility of some kind later in life.
In such a program, EHM assumes the financial risk that the senior will need extremely expensive services later in life. But, by delivering wellness services through a lifestyle coach, EHM hopes those residents won't end up needing expensive care late in life.
"I don't think this is a product that is for the faint of heart. You need to have a pretty robust network and variety of services already within your organization to make these programs successful," Rabidoux said.
Rabidoux said the program already has 17 applicants since launching in the spring.
EHM is considering expansion of its physical footprint in Macomb and Oakland counties, but Rabidoux said in-home services are perhaps more important to the long-term sustainability of senior service providers. And they're important to lowering health care costs, she said.
In addition, research shows that 95 percent of older adults would prefer to stay in their home instead of move to a care facility, she said.
"It gives us an opportunity to explore services that aren't necessarily putting a shovel in the ground or creating large expansive campuses," she said. "Senior service organizations are going to need to think differently about the services they provide and ask themselves if those services need or must be delivered on a campus or in a retirement community."
Contact AnnArbor.com's Nathan Bomey at (734) 623-2587 or nathanbomey@annarbor.com. You can also follow him on Twitter or subscribe to AnnArbor.com's newsletters.