Posted on
Tue, Oct 5, 2010 : 11:35 a.m.
St. Joseph Mercy Health System merging with IHA
By Nathan Bomey
(Note: This story has been updated several times with additional information and interviews.)

St. Joseph Mercy Health System is merging with Ann Arbor-based Integrated Healthcare Associates, executives confirmed this morning.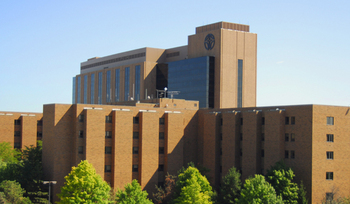 Photo courtesy of St. Joseph Mercy Health System
The merger
, which comes after several months of negotiations and is expected to be completed by Dec. 31, aligns two of the region's largest health care services providers. Financial details of the merger were not released.

Stephen Shivinsky, vice president of corporate communications and public relations for Trinity Health, the Catholic health care group that oversees St. Joseph Mercy Health System, said employees were being told about the merger this morning and into the afternoon. He said there would be no cuts to staffing levels or physical locations.

Patients with IHA doctors will see little change -- they can continue to visit their doctors, St. Joe hospitals and the University of Michigan hospital.

IHA, whose leadership will be maintained, will be operated as a subsidiary of St. Joseph Mercy Health System. A couple members of SJMHS' board will serve on the IHA board, and a few members of the IHA board will serve on the SJMHS board.

The merger comes as St. Joseph Mercy Health System is actively reconfiguring parts of its health care network.

The organization eliminated the inpatient unit at its Saline hospital in July and cut its family birth center at its hospital in Howell. The decision to focus more on outpatient services was a recognition of the shifting health care environment.

An increased focus on pay-for-performance health care services and additional preventative treatments are driving the industry's future.

Rob Casalou, president and chief executive officer of St. Joseph Mercy Health System's Ann Arbor, Saline and Howell hospitals, said that the national health care reform bill passed by Congress earlier this year played a role in prompting the merger.


"There is a great opportunity for us to manage care differently, really to move care outside of the hospitals and back into the doctors offices and back into the outpatient arena," Casalou told AnnArbor.com. "We're paying attention to where health care reform is driving us. We said if we wait until 2014 to reshape our health system, big mistake. This is a real proactive move."
St. Joseph Mercy Health System has seven hospitals throughout southeast Michigan, including its Superior Township hospital, which opened new 7-story and 11-story towers over the last two years.

St. Joseph Mercy Health System hospitals have 1,726 beds, five outpatient health centers, five urgent care facilities, some 25 specialty centers, about 2,700 doctors and another 14,000 employees.
IHA, formed in 1994, has some 30 offices with 150 physicians and 700 staff members serving more than 270,000 patients. IHA already had affiliations with St. Joe hospitals and the
University of Michigan Health System
.
IHA CEO
Bill Fileti
said the merger was "a terrific outcome" for patients and the community.
"We want to be a fully integrated health system so we can better coordinate care, so we can reduce fragmentation, so we can align priorities, so we can remove communication barriers," Fileti told AnnArbor.com. "It was like a perfect overlap of what they needed to do, what we thought was critically important to do. It is truly a strategic merger with the benefits being synergistic to the community."
IHA has been
steadily growing
and adding clinical sites over the last several years. The group practice, which more than doubled its number of physicians from about 2002 to 2007 and has added another 18 over the last three years, is headquartered at Domino's Farms in Ann Arbor Township. IHA's 270,000 patients is up 23,000 from a year ago. IHA had 220,000 patients in 2006.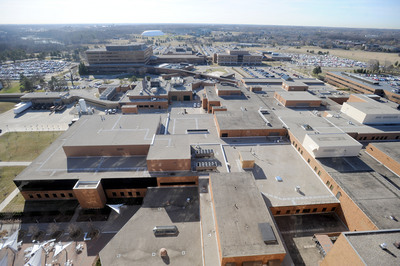 File photo | AnnArbor.com
IHA's wide-ranging services include cardiology, gynecology, family medicine, neurology, nutrition, pediatrics and some surgery.

Casalou and Fileti said they expect IHA's footprint to continue growing.
"By combining our resources we can accelerate IHA's growth, their access, how many doctors they have, their locations," Casalou said. "They're going to grow with us. As IHA gets larger, the community benefits from that."
Fileti said IHA's original vision was to grow to 350 physicians and nurses and 1,500 additional staff members by 2019. But he suggested that goal could be pushed ahead to 2014 to meet demand created by the health care bill and retiring baby boomers.
SJMHS indicated that it would use the merger to integrate more doctors into its leadership.
Casalou emphasized that the merger between SJMHS and IHA would not have a negative impact on the U-M Health System. He said SJMHS executives met with U-M executives on Monday to inform them of merger. IHA patients will still be able to visit the U-M Hospital.

"IHA will continue to be a good partner to them and we will continue to be a good partner as we discuss our opportunities together," Casalou said. "This is not at all going to be to the detriment of the University of Michigan."
Kara Gavin, a spokeswoman for the U-M Health System, released a statement calling SJMHS and IHA "two of our closest regional partners."

"We look forward to continuing the longstanding relationships we have with both IHA and St. Joseph Mercy Health System, and have been assured that they intend to do the same," Gavin said. "Indeed, we are embarking on several initiatives that will bring our institutions closer together. All of us have a strong commitment to the health of our regional population, and to serving patients through a broad range of primary and specialty care in a number of locations.
"We wish our colleagues well as they pursue the formation of an integrated health care system similar to the one that the U-M Hospitals and Health Centers, and the U-M Medical School's Faculty Group Practice, have had for a very long time."

Contact AnnArbor.com's Nathan Bomey at (734) 623-2587 or nathanbomey@annarbor.com. You can also follow him on Twitter or subscribe to AnnArbor.com's newsletters.