Posted on
Tue, Nov 1, 2011 : 2:42 p.m.
More room, more privacy and an indoor playground: How the new Mott Hospital improves the patient experience
By Lizzy Alfs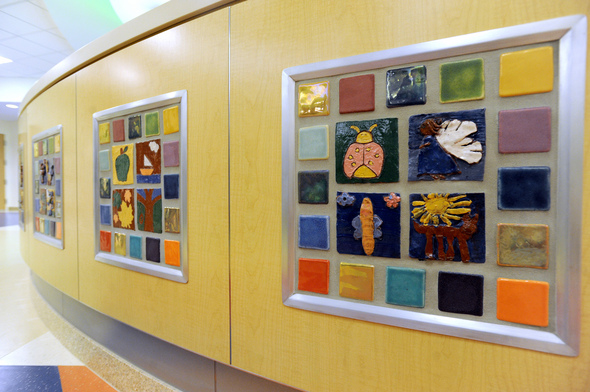 Angela Cesere | AnnArbor.com
Related story: A look inside the University of Michigan's new Mott Children's and Women's Hospital for the first time
Photo gallery: Images from the media tour of the new C.S. Mott Children's Hospital
From the small architectural details to the large private rooms and even a football-themed indoor playground, the new C.S. Mott Children's Hospital and Von Voigtlander Women's Hospital was built with children and families in mind.
Miniature butterflies made from recycled cans grace the walls of the hospital's lobby, with rainbow colored lights shining from the ceiling and even a hidden "fairy door" tucked away for children to discover.
Hundreds of people offered input during the design process for the $754 million, 1.1 million-square-foot facility, and each detail was devised from the patient and family perspective, said Mott hospital director Pat Warner.
"This is just a fantastic place to take care of children," said Ronald Hirschl, surgeon-in-chief of Mott Hospital.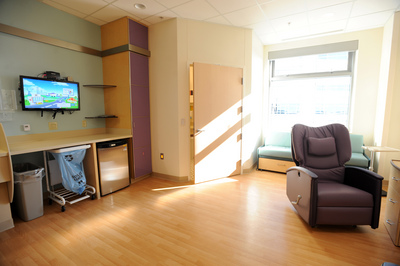 Angela Cesere | AnnArbor.com
The new hospital,
set to open Dec. 4
, provides every hospitalized child with his or her own room, increasing the bed capacity from 200 to 348. It will make Mott the largest of Michigan's three children's hospitals.
It includes a nine-story outpatient wing, a 12-story inpatient wing, 16 operating rooms and two radiology rooms.
But it's the small details that children patients will notice.
A giant statue of Big Bird stands at the entrance to the new hospital. There is a fish tank, colored lights, brightly colored bathrooms and animal-themed artwork.
Empty picture frames currently line the walls of the facility, waiting to be filled with pictures designed by the patients. 1,400 individually decorated tiles are displayed on the walls, which were hand-designed by patients over a 14-year period.
Warner said these details, although small, are meant to distract children patients from the difficult things happening in their lives.
"It's a great benefit," she said. "It's a distraction."
John Charpie, a doctor in the pediatric cardiology department, said another element of the new Mott hospital is vital to the patient experience: privacy. Most rooms at the old Mott facility are double occupancy and can be cramped.
The new, private patient rooms are much larger than the hospital's current rooms, and they have been designed with space to accommodate a child's family. 36 to 42 inch flat-screen TVs are also mounted to the walls so patients can watch TV, movies and see scheduling plans and patient education information.
Along with accommodating room for families, all types of medical equipment can be brought directly into the individual rooms. Private rooms also ensure that germs are not being spread between patients.
"It's remarkable how large these rooms are," Charpie said. "We can move equipment in and out without moving the patient."
And when a child is feeling well enough, they can head to the "Coach Carr Playroom," which is decked out in maize and blue games and play structure equipment.
Lloyd Carr, a former U-M football coach, praised his former players — including Steve Hutchinson, Charles Woodson and Brian Griese — for helping to raise funds for the new hospital.
He said the playroom is particularly important so kids can "get their minds off what they are going through."
"Kids are kids, and they have to be able to play," Loree Collett, the hospital's administrative director, pointed out. "This very much feels normal and it's an opportunity for them to feel like kids again."
To aid in helping the patients feel more at home, Marie Lozon, a doctor in the pediatric emergency department, said the hospital is trying to maintain a calm, quiet atmosphere in the new emergency department.
The new pediatric emergency area is triple the size of the old facility, and it will ensure that the department never gets filled to capacity, Lozon said.
"The old area would get too crowded," she said.
If the old hospital were particularly busy, sometimes patients would have to be treated in the hallways. But Lozon said this will never happen at the new facility.
"We've created the space to try to accommodate all the patients we would possibly see," she said.
There is also more room for "observations," or situations where a child's situation isn't life threatening but needs to be monitored, such as dehydration or a concussion.
"The other facility feels very tiny now," she said. "This is a great move."
Lizzy Alfs is a business reporter for AnnArbor.com. Reach her at 734-623-2584 or email her at lizzyalfs@annarbor.com. Follow her on Twitter at http://twitter.com/lizzyalfs.