Posted on
Mon, Apr 1, 2013 : 5:58 a.m.
GM Willow Run plant redevelopment: Active discussions in progress with several companies
By Katrease Stafford
The redevelopment manager in charge of marketing the former General Motors Willow Run plant in Ypsilanti Township said talks are under way with serious entities who are interested in redeveloping portions of the 5 million-square-foot facility.
"We're in active discussions with several companies and we are talking to serious entities that are interested," said Patricia Spitzley, deputy redevelopment manager for the Revitalizing Auto Communities Environmental Response Trust, which took control of 89 abandoned GM properties on March 31, 2011.
The trust was charged with selling, repositioning and cleaning up all the sites, 56 of which were in Michigan.
The Willow Run plant at one point was the largest employer in Ypsilanti Township. The plant also borders Van Buren Township.
RACER declined to say what companies have expressed interest.
In terms of who may redevelop the property, Township Supervisor Brenda Stumbo said she's hoping for a company that would use the property for manufacturing purposes.
"It would be a true blessing to have manufacturing there because the plant was built for that," Stumbo said.
Stumbo said demolishing the property isn't out of the question either.
"If they do demolish it, there's potential," Stumbo said. "It could be a tech park or an extension of the airport... There are a lot of different possibilities."
Stumbo said the plant has a rich history, but letting it remain empty is not an option.
"There's just so much wonderful rich history and it's hard to let go of that, but the reality is it's gone," Stumbo said. "If there's a way to preserve part of the history and redevelop it into another manufacturing facility, that would be a great story, but for it to be an empty shell with weeds growing up is unacceptable. It'll rot and be a blighted eyesore if we don't redevelop it."
Earlier this year, Stumbo said redevelopment of the site wasn't "moving along as fast" as she would like.
Now, Stumbo said communication has improved between RACER and the township and her outlook on the property being redeveloped is optimistic. Stumbo said the township met with RACER representatives two weeks ago.
"We're trying to work hand in hand with RACER," Stumbo said. "I do feel very positive toward the potential redevelopment."
During a Tuesday overview meeting of the site, U.S. Rep. John Dingell, D-Dearborn, expressed concern regarding the effort to market the contaminated site, which he said has the potential to be a "tremendous asset" or group of assets for Washtenaw County.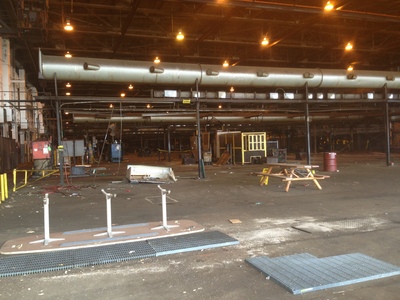 Katrease Stafford | AnnArbor.com
Spitzley told AnnArbor.com she isn't worried about the environmental aspect of the site.
In the 1980s, GM became aware of oil accumulating under portions of the onsite building, according to RACER's marketing brochure.
Environmental investigations and remediation work began, including the installation of soil borings, monitoring wells and recovery systems around the property.
Historical soil and groundwater data from the site indicate the presence of other compounds, including benzene, aluminum and mercury, among other possible contaminations, according to RACER's marketing brochure.
"We have a Michigan cleanup manager and we have dollars that have been allocated to that site," she said. "We're working with state and federal agencies to address the issues and isolate the problems.
AnnArbor.com previously reported that RACER Trust has $35.8 million to clean up the environmental issues.
All of the environmental work will be overseen by the Michigan Department of Environmental Quality.
Dingell also inquired about RACER's efforts to consider breaking up the sale of the facility versus marketing it as a single property.
"I don't know who's ready to plunk down money and buy in this real estate market," Dingell said.
According to the company's marketing brochure, the total assessed value for the property is $16,284,900, making its market value more than $32 million.
Stumbo said RACER is paying property taxes on the expansive property, but the dollars don't amount to what the tax base was when GM still operated out of the facility. Stumbo said GM paid about $1.2 million in taxes annually and the loss was "devastating."
Spitzley said the trust is marketing the property as both a single property and one that can be broken up into multiple offices for different businesses.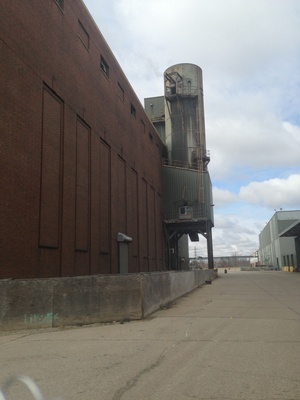 Katrease Stafford | AnnArbor.com
"We're marketing it both ways," Spitzley said. "We are open to marketing it either as a single piece or as several pieces. We evaluate each opportunity that comes along. It's a big facility and for us it makes sense for us to be open to individual companies."
A developer based in Grosse Pointe Farms, A.E. Equities Group Holdings, expressed interest in 2011 in redeveloping the 5-million-square-foot former transmission manufacturing plant for $9 million.
Later on that year, the company raised its offer to just under $20 million, but the deal failed to materialize. The developer wanted to turn the site into an "energy park" that would have brought nearly 3,000 jobs to the area.
Stumbo said RACER is responsible for vetting the potential developers of the property and she believes many were eliminated based on their financial portfolio.
"We don't say Company X we want you to come here," Stumbo said. "RACER has to vet them and make sure they're financially capable of doing what they say they're going to do."
Crucial to the marketing of the 335-acre site is its close proximity to the Willow Run Airport, Spitzley said, which could possibly frame the sort of business to revitalize the former plant.
The Willow Run Airport is scheduled to undergo a multimillion improvement project over the next 10 years.
"We could say we want to market the site to an industry that would complement the airport," Spitzley said. "Anything from airport maintenance, cargo, storage, any of those things. ... We look at each individual site and look at the unique qualities of the site and that helps to market it."
Spitzley said RACER has been including community leaders in the effort and receiving feedback on what they envision for the site, which always circles back to jobs that pay well.
"What we've done at the RACER site at Willow Run was we talk to the community and work to develop an economic development vision," Spitzley said. "Based on that, we put together a marketing brochure that we've prepared for Willow Run. We do it a variety of ways. We put it on traditional industrial sites for folks, we've gone to trade shows, there's just not just one particular thing we do. It's a system of marketing."
Cliff Lewis, site manager of the former Willow Run plant, said at peak, 14,000 people were employed. That number declined over the years and when the plant closure was announced in June 2009, GM had about 1,300 workers.
At one point, the plant — built in 1941 by Henry Ford as a bomber manufacturing plant — employed more than 40,000 people during World War II.
"Everyone wants good-paying jobs and investment back in the community," Spitzley said. "For the airport, how can we use that asset? We can market it to air-related facilities who need to have access to the airport."
Spitzley said RACER is optimistic the former plant will be redeveloped, noting that several of the other sites around the country have been. RACER started with 44 million square feet of industrial space and have closed 26 property transactions at former General Motors locations around the country, with total sales exceeding $26 million.
RACER announced an agreement with NorthPoint Development on March 22 for development of a Central Industrial Park that is expected to create 2,000 new jobs at the site of a former General Motors auto assembly plant in Kansas City, Kansas.
"RACER is actively working with the community, Ypsilanti Township, the state of Michigan and the federal government to put the property in the best position possible," Spitzley said. "We are doing all that we can and working diligently."
See the video below by AnnArbor.com reporter Amy Biolchini:
Katrease Stafford covers Ypsilanti for AnnArbor.com.Reach her at katreasestafford@annarbor.com or 734-623-2548 and follow her on twitter.