Posted on
Thu, Jun 24, 2010 : 5:15 a.m.
Executive Profile: Michael Quinn, senior principal, Quinn Evans Architects
By Sarah Rigg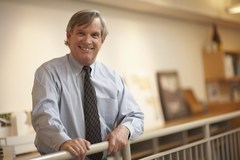 Ann Arbor's
Quinn Evans Architects
is celebrating its 25th anniversary this year, but founder and senior principal Michael Quinn has been involved in architecture for much longer than that.
When he was a child, his parents had an addition made to their house, and Quinn went to work in the office of the architect who had worked on his parents' home.
"I had my first job in an architecture office when I was 13," Quinn said.
His interest in architecture continued, and Quinn attended the University of Michigan to study the field in the 1960s. Then, he says, he "took a left turn my junior year into zoology." He followed that up by spending two years in the Peace Corps, and then came back to earn his master's in architecture.

He said his interest in sustaining historical buildings grew out of his first professional experience with an architecture firm that did preservation work. Quinn said historical preservation was considered a "boutique" business at that time, not mainstream as it is now.
Since founding Quinn Evans Architects with his partner Dave Evans in the mid-1980s, Quinn said he has tried to be "at the nexus of the conversation about preservation, architecture and planning in our society today."
In addition to his interest in historical preservation, Quinn said he's been interested in the 'green' building movement for decades, including building his own solar-powered home in 1976.
Historical preservation and 'green' building dovetail better than many might expect.
"At our firm, one of our principals… coined the term, 'The greenest building is one that's already built.' Some buildings need to be torn down or altered so they're not functionally obsolete, but we specialize in taking historical buildings and making them functional," Quinn said.
That approach recently earned Quinn Evans Architecture a 2010 Firm of the Year award from the American Institute of Architects - Michigan. The award is given annually to a firm that has "consistently produced distinguished architecture for a period of at least 10 years."
Quinn said his firm has earned more than 80 state and regional awards for the work it does out of its Ann Arbor, Washington, D.C., and Madison, Wis., offices. As an example of historical preservation done in Washtenaw County, St. Andrew's Episcopal Church in Ann Arbor, recently restored by QEA, was also honored with a 2010 Honor Award in the Building - Historic Preservation category.
Background
Age: 63.
Education: Master's degree in architecture from the University of Michigan, 1974.
Family: Three children: David (22), Sam (21) and Hannah (17).
Residence: Home is split between Ann Arbor and Washington, D.C., with houses, cars and children in both locations.
Business Insights
Best business decision: Joined the Peace Corps following undergrad degree and learned how to survive and thrive on $15 a month and make a contribution (Barbados, 1970 -1971).
Worst business decision: I have made my share of bad decisions but learn and move forward has been my approach.
Best way to keep a competitive edge: Keep your eyes open and challenge even the good ideas. Good luck comes to those who work hard.
Personal hero: My father. He was a medical doctor in internal medicine who practiced for 56 years at Henry Ford Hospital in Detroit and always said he had the best job in the world. He was a doctor's doctor.
How do you motivate people? Be positive, always look for the opportunity in the challenge, don't panic and say, "Thank you."
What advice would you give to yourself in college? Learn to schedule both work and play. Don't panic. Take advantage of the many for special life opportunities. If you find a good opportunity, often rules can be broken. For me I found a way to spend a semester in Denmark as part of my graduate degree.
Confessions
What keeps you up at night? Learning how to parent. We (my kids and I) have learned together day by day.
First job: Delivered milk in a milk truck at age 10. Pay was one quart of chocolate milk and $2 a day.

Treasures
Favorite cause: Saving our cultural history both natural and build and creating better communities.
Favorite hobby: Sailing and a day on the water.
Favorite restaurant: In Ann Arbor: Eve. In Washington, D.C.: Cactus Cantina and Nora's.
What team do you root for? U of Mich Football Team, Detroit Pistons and the Detroit Tigers.
Sarah Rigg is a freelance writer and a frequent contributor to AnnArbor.com. You can reach her at sarahrigg@yahoo.com.