Posted on
Thu, Jul 22, 2010 : 5:13 a.m.
Executive Profile: Peter Bowe, partner, Saline Picture Frame Co.
By Sarah Rigg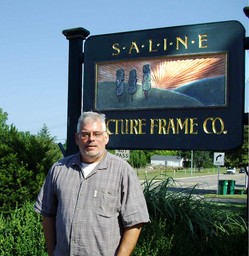 photo by Sarah Rigg
When asked what he thinks about his business winning multiple awards from the Saline Area Chamber of Commerce, Peter Bowe, managing partner of
Saline Picture Frame Co.
, says it's easy to get noticed in a small town.
But the local family-owned company has not only survived for 22 years-- it has thrived, adding a second location in 2007.
Bowe started the company in a small downtown Saline location with his wife Mary and sister Sara in 1988. None of them had an educational background in art or business: Mary had a sociology degree, Sara had an aviation technology degree, and Peter was an English major.
However, all of them had worked in frame shops owned by others for several years and felt they knew the business.
"And it was a low capital investment at that time," Bowe said. "I think we started the original shop in $10,000, practically from the change that was in our penny jars."
Since those early years, the company moved its Saline store to a new location on Ann Arbor Road and then added a location in Dexter.
Bowe said technology and changes in decorating styles affect the ebb and flow of business in a frame shop. He said that a change from decorating based on framing precious heirlooms for the walls of a family home to using a sparer, more disposable decorating pieces has meant fewer frame purchases. And now, his company is not only competing against national home décor giants like Bed, Bath and Beyond but also against Internet retailers.
However, the company picks up some extra income by doing installations of artwork in commercial and public spaces, Bowe said. For example, Bowe recently did a large art installation for the Kellogg Eye Center in Ypsilanti.
Bowe said diversifying has been one of their key strategies for surviving the recent economic downturn in Michigan.
"We actually managed to grow over the last three years — not markedly, but a small, steady growth," Bowe said. "We don't just rely on framing pieces of fine art. We have a pretty viable e-commerce site selling frames and framing supplies on the Internet as well." Technology has brought more than competition though — it's also brought some significant benefits, he said.
"We have computerized cutters and a server-based point of sales for both stores," he said. "We do our check-in and work scheduling on a computer. Technology has been a boon for us in that sense — it's allowed us to run a more efficient operation and allowed us to run two stores out of the same pool of inventory."
The company received a "Business Enterprise" award from the chamber in 1998, and earlier this year, all three of the owners of the company were named "Citizens of the Year" by the chamber.
For a large part, this is due to the many fundraisers they have done to support the arts community and local nonprofit Food Gatherers.
"The Circle of Art is probably our biggest outreach," Bowe said.
Artists throughout the county donate small pieces of art, he explained, and then art lovers can bid online or at a silent auction during the culminating event. Proceeds go to Food Gatherers.
"It was supposed to be a one-time thing, but it took on a life of its own," Bowe said. "We've done it for the last five years now, and it's made for a really nice partnership with not only the artists but also with Food Gatherers."
The Bowes don't just support local artists and charities but also try to be mindful of the "buy local" movement, supporting the local economy when they can.
"We like to buy locally but sell globally," Bowe said. "We've always been believers in being part of the local economy. We're conscious of the fact that, particularly in small towns, the money you spend at a local store is more likely to come back to you."
Bowe said he and his partners try to be good corporate citizens both communities where they operate.
We like what we do and the communities we do it in," he said. "We're grateful to have been able to survive and be a part of those communities."
Background
Age: 54.
Education: Bachelor's degree in English/economics, Wayne State University.
Family: Wife, Mary. Two daughters: Alice, 19, and Grace, 17.
Residence: Saline.
Business Insights
Best business decision: Developing long-term relationships with both customers and vendors.
Worst business decision: I've made a lot of them. Luckily I have always been cautious enough to have an exit strategy. If you don't have ideas that bomb, you probably aren't trying out enough ideas.
Best way to keep a competitive edge: Constantly refine operations.
Personal hero: I'm a firm believer in human fallibility. I distrust hero worship.
How do you motivate people? Tell them my vision and then keep telling them until it become easier to come on board than it is to listen to me go on.
What advice would you give to yourself in college? Same thing I am telling my kids: Enjoy it. Learn things, make friends, try things out. Relish a place filled with bright, interesting people. Don't borrow money for an unmarketable degree.
Word that best describes you: Deliberate.
First website you check in the morning: E-mail.
Confessions
What keeps you up at night? Cash flow.
Pet peeve: Curved claw hammers.
Guilty pleasure: Andouille sausage.
First job: Independent worm farmer.
First choice for a new career: Running the corrugated baler at the recycling center. Treasures
Favorite cause: Food Gatherers - good people doing good work in a transformative and creative way.
Favorite book: I have a lot of favorites but a few I really like are Ken Kesey's "Sometimes a Great Notion" Charles Dickinson's "Crows" and Jim Harrison's "The English Major."
Favorite movie: "High Fidelity."
Favorite hobby: My kids tell me I don't do leisure well, but I enjoy my vegetable garden.
Favorite restaurant: I like Paradise because the owners, Vicki and Allen, treat us like extended family. The trout breakfast at the Lighthouse Café in Dexter is a wonderful thing.
LinkedIn, Facebook or Twitter? All three, although I rarely update and secretly feel that there is something fundamentally undignified about a man of my age having a Facebook page.
Typical Saturday: Saline Farmers Market, then usually to work - the joys of being a retailer.
What team do you root for? I'm a casual Tigers fan.
Wheels: A Ford cargo van loaded with art installation tools and framing materials.
Who would play you in a movie? Gene Hackman or Dennis Hopper.
Sarah Rigg is a freelance writer and a frequent contributor to AnnArbor.com. You can reach her at sarahrigg@yahoo.com.