Posted on
Thu, Jan 31, 2013 : 3:16 p.m.
Expired certificate of compliance at burned apartment 'not uncommon' for rental properties in Ann Arbor
By Ben Freed
It was "not uncommon" that the certificate of compliance issued by the city of Ann Arbor to the owners of 401 S. Division St. expired Jan. 1, the city's rental housing services projects and programs manager Lisha Turner-Tolbert said. That left the building without an up-to-date certificate when it caught fire Jan. 25.
It also was not uncommon that the building did not have an inspection scheduled and was unlikely to be looked at by city officials until late April at the earliest.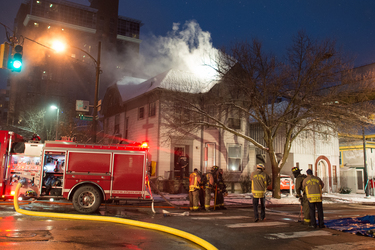 Courtney Sacco | AnnArbor.com
Most rental properties have lapses between the expiration of their certificates and the first inspection to get them renewed.
"It's not written in the code anywhere that [property owners] have to call us or to get their certificate renewed within a certain period," she said.
"Only about 20 percent of our population calls us to schedule an inspection ahead of their expiration date."
Turner-Tolbert said that due to scheduling restraints, once a property has a certificate of compliance there is no ordinance specifying renewal requirements and the responsibility is on the city to schedule the inspections.
"My goal is to keep it to six months or less after the permit expires," she said.
"We've been working really hard to get the right personnel and be able to keep it to about five months… so right now people whose permits expired in September are having their inspections performed."
Ann Arbor currently has four rental housing inspectors according to the city's website.
The city's eTrackit website that tracks permitting progress shows the certificate of compliance for 401 S. Division St. expired on June 1, 2012, but Turner-Tolbert said that display is the result of a glitch in the system that effected approximately 20 properties.
Ben Freed covers business for AnnArbor.com. You can sign up here to receive Business Review updates every week. Reach out to Ben at 734-623-2528 or email him at benfreed@annarbor.com. Follow him on twitter @BFreedinA2