Posted on
Thu, Oct 18, 2012 : 5:58 a.m.
First Call: Bill's Beer Garden opens, bringing a piece of Europe, a place to gather to the west edge of downtown
By Janet Miller
The western edge of downtown Ann Arbor looked like a page torn from a European tour book Wednesday night with the pre- grand opening, invitation-only party for Bill's Beer Garden.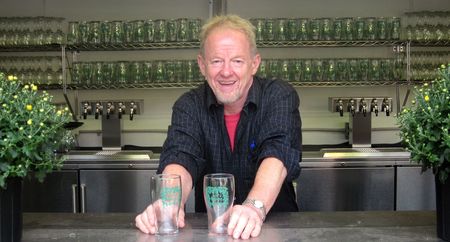 Photo courtesy of Phillis Engelbert
The city's - and perhaps the state's - only totally outdoor bar will be opened for an abbreviated season with its grand opening Thursday.
And while it felt European right down to the tall hedge of European hornbeam trees, German-made beer garden furniture and the strolling accordion player, the beer is pure Michigan.
The beer garden will have 10 taps featuring an all-Michigan line-up, including microbrews from Ann Arbor, Detroit and Marshall along with a non-alcoholic bottled beer and a bottled gluten-free beer.
"I haven't talked to anyone in town who said they're not coming to the grand opening," said Bill Zolkowski, co-owner of the beer garden. He is a partner with Mark Hodesh, owner of adjacent Downtown Home & Garden and the force behind Mark's Carts, purveyors of street food, located behind the store.
The opening came more than three months after original projections as the Michigan Liquor Control Commission struggled with the beer garden's Class C license application, Zolkowski said.
"They'd never given a license for a place that was entirely outdoors and it was a full, Class C (non-restrictive) license for an establishment that's in a parking lot."
By day, the space will continue as a parking lot for Downtown Home & Garden. But like Cinderella at the ball, the asphalt lot will be turned into a 160-seat beer garden with a small dance floor four nights a week.
The handsome dark green beer shed with metal roof is a permanent fixture at the far end of the parking lot, with rows of beer garden tables and benches along with round wooden tables under two heated pavilions that will protect customers from rain, snow and the cold.
Hodesh and Zolkowski, a former physics teacher and high school principal, are long-term friends. They met when Hodesh was the late-shift cook and Zolkowski was the bus boy at the Fleetwood Diner across the street from Downtown Home & Garden.
After Hodesh opened Mark's Carts behind his home and garden store in spring, 2010, his thoughts turned to liquid refreshment.
"After the carts, it wasn't such a long stretch to a beer garden because the carts need beer," Hodesh said.
It will help make the corner of South Ashley Street and West Liberty Street buzz with activity, said Connie Pulcipher, a neighbor who attended the pre-grand opening party.
"It's about more than beer," she said. "It's about community and being able to come and meet the neighbors in a more communal setting and with more capacity than a front porch."
The partners have plans for the future: There will be occasional live music and storytelling, maybe a trivia night, and perhaps food and beer pairings with dishes from Mark's Carts.
Bill's Beer Garden will be open from 5-11 p.m. Thursday, Friday and Saturday and from 4-9 p.m. Sunday. Hours will change seasonally. It will close for the season Dec. 2 and re-opened St. Patrick's Day weekend. It is located in the parking lot just south of Downtown Home & Garden, 210 S. Ashley.