Posted on
Wed, May 8, 2013 : 5:57 a.m.
First Martin requests 2-year site plan extension for Traverwood office building
By Lizzy Alfs
Ann Arbor real estate firm First Martin Corporation is requesting a two-year extension of its plan to construct more than 60,000 square feet of office space in the Traverwood Business Park.
First Martin submitted a site plan extension request and an administrative amendment for its property at 2300 Traverwood Drive. The existing three-story, 66,878-square-foot office building was developed in 2000 for Mechanical Dynamics and is now occupied by MSC Software Corporation. The building sits on a 13.19-acre parcel.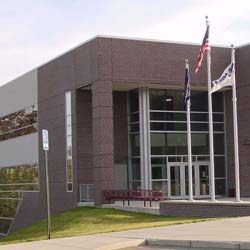 First Martin
The approved site plan allows First Martin to construct additional parking and double the size of the building. Because the site plan expires this year, First Martin is requesting a two-year extension.
"We're continuing efforts we've done in the past and preserving the option to potentially act fast if a situation arose where someone wanted office space," said First Martin's Mike Martin.
The administrative amendment calls to divide construction into two phases: Phase 2 would add 231 parking spaces east of an existing wetland on the site. It also calls to construct a pedestrian walk, steps and a bridge to link the proposed parking to the existing building.
Construction of Phase 2 is expected to begin as soon as possible in 2013, according to plans submitted to the city of Ann Arbor.
Phase 3 is the 66,878-square-foot addition to the existing building and construction will begin when the market dictates, the plans say.
First Martin also recently proposed a 251-unit apartment development on a vacant property at 2225 Traverwood Drive. The company held a citizen participation meeting in April to discuss the project with neighbors and solicit feedback.
Lizzy Alfs is a business reporter for AnnArbor.com. Reach her at 734-623-2584 or email her at lizzyalfs@annarbor.com. Follow her on Twitter at http://twitter.com/lizzyalfs.