Posted on
Tue, Jan 18, 2011 : 7:24 p.m.
First tenant at University of Michigan's incubator pursuing device to speed bacterial infection tests
By Nathan Bomey
Anyone who has waited for hospital tests to determine a patient's bacterial response to antibiotics knows how frustrating that wait can be.
And it isn't just frustrating —it's costly for the patient and the health care system, and it can lead to major health problems.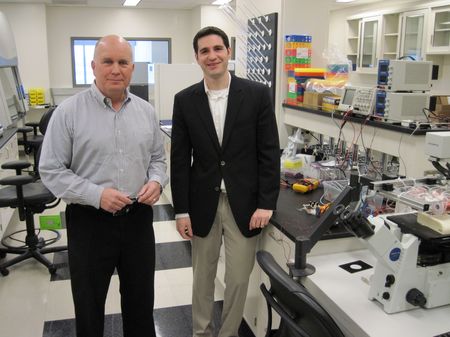 Nathan Bomey | AnnArbor.com
That wait time — which can stretch into days — equals a market opportunity for University of Michigan spinoff Life Magnetics, which says it has developed a device that shortens the time to a few hours.
Life Magnetics recently signed a deal to become the first tenant of the U-M Technology Transfer Office's new 16,000-square-foot business incubator, which is housed in a building at the former Pfizer complex. Life Magnetics, officially incorporated in 2009, is renting 1,400 square feet of lab space at the "Venture Accelerator" facility on what U-M is calling its North Campus Research Complex.
The space gives Life Magnetics access to high-tech equipment and intellectual resources from employees of the Tech Transfer Office and Business Engagement Center, which are collocated with the incubator at the facility.
"We're able to greatly reduce the administrative burden that normally falls on a startup company because so much is already taken care of. We can more quickly focus on those things we need to focus on as a company," said Bill Wood, Life Magnetics' interim CEO and a veteran of Ann Arbor's startup scene.
Life Magnetics secured an undisclosed amount of early-stage venture capital financing in 2010 from Ann Arbor-based investment firm Arboretum Ventures. Arboretum, which focuses on investments in technology that reduce the cost of health care, has reaped big returns on past investments in Ann Arbor companies like HealthMedia and HandyLab.
Wood said the capital is enough to operate at least through the rest of 2011. He said the company would need about $15 million to $20 million to get the device to the market, a process that will take at least two years.
The company has five employees today, but its business plan calls growing to about 80 to 100 employees within four to five years, Wood said.
Life Magnetics founder and chief technology officer Brandon McNaughton developed the company's diagnostic device while completing his doctoral degree at U-M. McNaughton, a California native, finished his degree in 2007 but decided to stay in Michigan and continue pursuing the device instead of moving back to his home state. McNaughton and Wood met last summer while Wood was serving, on behalf of the Tech Transfer Office, as McNaughton's entrepreneurial mentor.
"I stayed here specifically to see where this could lead," McNaughton said. "I also had a strong belief that the technology could improve human health and felt like if I left, it would die on the shelf."
The in-vitro device applies a small magnetic field to provoke rapid culturing in a sample of a patient's bacterial infection. Lasers interact with the bacterial infection, which is placed in a disposable cartridge the company is also developing, to help determine the infection's response to antibiotics.
This process could replace the traditional system in which hospitals have to wait for the cells from a bacterial infection to "culture," or proliferate, in the lab before testing to see whether antibiotics will be effective against the infection.
Speeding that process up could eliminate the need for hospitals to give patients an assortment of antibiotics while waiting for test results, without knowing which ones will work — a practice that is causing organisms to adapt and leading to antibiotic resistance, according to the Centers for Disease Control and Prevention.
Ken Nisbet, executive director of U-M's Tech Transfer Office, said Life Magnetics is a perfect fit for the new incubator space.
The Venture Accelerator, he said, offers space "where individual companies can be nurtured and given the resources they need."
Contact AnnArbor.com's Nathan Bomey at (734) 623-2587 or nathanbomey@annarbor.com. You can also follow him on Twitter or subscribe to AnnArbor.com's newsletters.