Posted on
Tue, Jan 18, 2011 : 6:39 p.m.
University of Michigan opens business incubator at ex-Pfizer site to boost its startup companies
By Nathan Bomey
The University of Michigan today officially opened a 16,000-square-foot business incubator at the former Pfizer site in northern Ann Arbor, part of a plan to boost its own startup companies and establish tighter ties with industry.
The incubator, which the university is calling its "Venture Accelerator," leases space to early-stage startup companies that have licensed intellectual property from the university.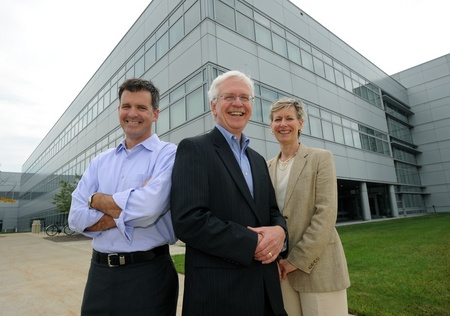 Lon Horwedel | AnnArbor.com
The first company to use the space, a medical device venture called Life Magnetics, is renting 1,400 square feet of laboratory space. Another four companies are close to finalizing leases for space: Phrixus Pharmaceuticals, 3D Biomatrix, Civionics and EngXT.
U-M President Mary Sue Coleman described the incubator as an example of the university's commitment to using the 2-million-square-foot former Pfizer complex to establish tighter relationships with commercial partners in an entrepreneurial fashion.
"The University of Michigan is firmly dedicated to accelerating the transformation of our economy through creativity and entrepreneurship in the community," Coleman told a group of 500 U-M executives and business leaders gathered at the accelerator this afternoon. "We are eager to collaborate with companies to drive transformative research that can change the world."
The establishment of the venture accelerator, first reported by AnnArbor.com in September, expands the Ann Arbor region's network of business incubators.
That network includes Ann Arbor SPARK's three incubators: TechArb, a space for companies led by U-M students; Tech Brewery, an incubator that caters to individual entrepreneurs and very early-stage ventures, mostly in the information technology sector; and the Michigan Research Institute, which offers incubator space to high-tech companies in Pittsfield Township.
The Venture Accelerator will be operated by U-M's Tech Transfer Office and is located next to the Tech Transfer Office and the Business Engagement Center — an arrangement that officials purposely constructed to allow startup tenants to get expert advice and resources from U-M's entrepreneurial experts.
"As part of the bigger picture, we're here trying to take great technology and trying to apply it in the best way we can," said Ken Nisbet, executive director of the Tech Transfer Office. "We've done that forever but never had a formal space, and we thought that was one more piece to fit into the total puzzle."
The incubator is expected to have up to five startup companies within a few weeks. Nisbet said that eventually, the site could have 15 to 20 startups. Those companies are expected to stay at the incubator for 12 to 36 months and, ideally, grow to the stage where they can move out and establish their own offices.
U-M's Tech Transfer Office helps about 10 companies a year spin out of the university. Nisbet said the goal is not to generate a higher number of startups but to improve the quality of those startups.
"We're thinking about half of them would like to be here," Nisbet said. "When they launch, hopefully they're going to be far more sustainable and grow quicker and have an economic impact."
Jim O'Connell, director of the Tech Transfer Office's Michigan Venture Center, which offers advice and resources to U-M startups and prospective faculty entrepreneurs, said the incubator is not meant to be a competitor in the commercial real estate market.
"You can definitely find cheaper space in industrial parks around town. That's not where we're trying to position this," he said. "This is about adding value that you can't find (elsewhere)."
With the Venture Accelerator, the Tech Transfer Office and the Business Engagement Center, U-M now has about 500 employees housed at the ex-Pfizer site, which the university bought for $108 million in June 2009.
Ora Pescovitz, CEO of the U-M Health System and the university's executive vice president for medical affairs, said the university is on track to have nearly 1,000 employees at the site within a year.
"What I see is immeasurable, infinite potential," she said.
Contact AnnArbor.com's Nathan Bomey at (734) 623-2587 or nathanbomey@annarbor.com. You can also follow him on Twitter or subscribe to AnnArbor.com's newsletters.