Posted on
Thu, Dec 23, 2010 : 2:21 p.m.
For sale: Recently closed downtown Ypsilanti bars Savoy, Pub 13
By Paula Gardner
The recent closings of two downtown Ypsilanti bars took a permanent turn this week after the lender listed both the Savoy and Pub 13 for sale.
Michigan Commerce Bank is asking for $990,000 for both properties, which share a liquor license, said listing broker Jim Chaconas of Colliers International.
Both bars were operated by David Curtis, who closed them in late November amid what Curtis described as a dispute with DTE Energy over his utility billing. The businesses were $30,000 in arrears, according to DTE — though Curtis said a malfunctioning meter caused the massive underbilling.
But other debts appear to have mounted, resulting in the lender seeking a new owner for the businesses, which have anchored downtown Ypsilanti's entertainment district.
The properties, Chaconas said, come fully furnished for a new operator: "Everything's there," he said, "even the beer and wine."
Washtenaw County records showed the Savoy owed $44,632.99 in back taxes for 2008 and 2009, including interest and penalties, when it closed.
And now the listings indicate that mortgage debt is going unpaid.
According to county records, Midwest Realty LLC — an entity involving Curtis — bought 17-23 N. Washington in September 2002 with a $1.1 million loan from the former Ann Arbor Commerce Bank, now operating as Michigan Commerce Bank.
The Savoy, formerly Club Divine, operated at 17 N. Washington, one of the two buildings now for sale. Déjà  Vu still operates at 23 N. Washington, and city assessor records indicate the Savoy building was "split" from the Déjà  Vu property for taxing purposes, with Midwest Realty still retaining ownership of the Savoy building.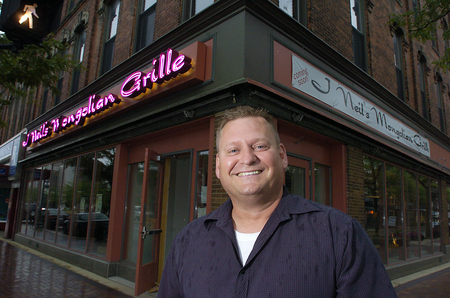 AnnArbor.com files
Meanwhile, Pub 13 operated at 13 N. Washington, and that building was purchased in 2002 for $150,000, according to city records. The buyer was 13 N. Washington LLC, an entity controlled by Curtis.
No record of a mortgage for the Pub 13 property could be found on a county search this afternoon. However, in March, Michigan Commerce Bank paid $24,069.72 to avoid a tax foreclosure on that building.
Combined, the buildings are 21,000 square feet, and they appraised for the listing price, Chaconas said. Individual prices for the buildings are $565,000 for the Savoy and $450,000 for Pub 13.
Both bars had been a key part of the Ypsilanti nightlife scene. At one time, Club Divine was one of the top wholesale buyers of liquor in Washtenaw County.
"A few years ago those bars were rocking and rolling," Chaconas said.
They could regain their momentum, he added. Curtis had expanded into the nearby J. Neils Mongolian Grill as the economy took a turn, and new operators focusing solely on the bar venues should be able to find a new niche.
"People will be getting some great bargains here," he said.
They'd also join a transitioning downtown district that remains focused on entertainment: The Elbow Room reopened with new managers, The Tap Room expanded, and the former TC's Speakeasy will reopen this winter as Red Rock Downtown BBQ, with live music.
Ypsilanti Mayor Paul Schreiber described the closings as a loss, and noted that the economy has been hard on many local businesses.
However, he noted that even with the movement in the bar scene, "survival is going on."
That's evident in Woodruff's opening in the former Cady's in Depot Town, he said.
He also noted that Curtis made dramatic improvements to his properties, upgrading the Savoy from its days as the Spaghetti Bender. As the spaces are improved, the opportunities for new operators to see value in the properties and step in with new operations becomes more likely.
"That's the plan of the city," Schreiber said. "Maybe businesses come and go, but there's more there to offer (after upgrades)."
J. Neil'ss, meanwhile, also was shuttered within the last month.
Curtis has not been reached for comment.
Paula Gardner is Business News Director of AnnArbor.com. Contact her at 734-623-2586 or by email. Sign up for the weekly Business Review newsletter, distributed every Thursday, here.