Posted on
Fri, Nov 4, 2011 : 10:15 p.m.
ForeSee named AnnArbor.com Business Review's 2011 Company of the Year
By Nathan Bomey
See also: AnnArbor.com's Business Review reveals winners of 2011 Deals of the Year awards
Drivers who made their way down South Main Street in Ann Arbor on a Tuesday in late September may have been momentarily distracted by Michigan's giant new video scoreboard, which is clearly visible from the road.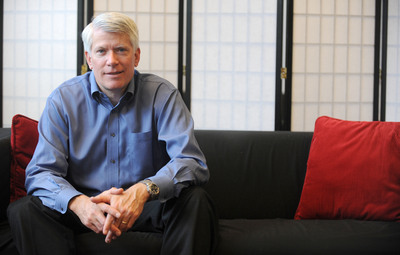 Angela J. Cesere | AnnArbor.com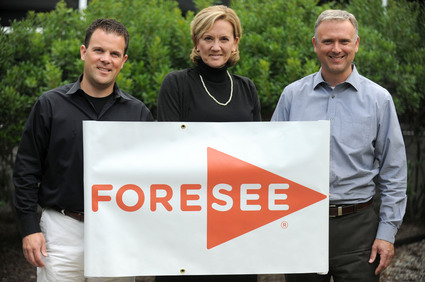 Angela J. Cesere | AnnArbor.com
The scoreboard was lit up at sunset — but it had nothing to do with football.
Instead, it was displaying a giant logo of Ann Arbor-based ForeSee, which has become one of the nation's leading providers of customer satisfaction measurement.
ForeSee, which rented the stadium for the night to host high-profile attendees of its internal user summit, has assembled a wide range of clients, including one-third of the biggest retailers, one-third of the Fortune 100 companies, and other major clients like the NFL, the U.S. State Department and NASA.
The company, which celebrated its 10th anniversary in September, was named Company of the Year at AnnArbor.com Business Review's 2011 Deals of the Year ceremony Friday night.
ForeSee, which shortened its name from ForeSee Results earlier this year, conducts about 1.4 million online surveys every month for its clients. The company uses a tailored version of the American Customer Satisfaction Index originally licensed from the University of Michigan a decade ago to analyze online customers' experience.
With record revenues every successive quarter for 10 years, ForeSee has enjoyed a wave of success based on a steady wave of demand for its website analysis services.
But over the last 2 years, the company has expanded its services to include offline customer satisfaction research and analysis in an effort to diversify its client base and leverage its brand to boost revenue.
So far it's working. The company says its sales have risen by at least 25 percent every year. And the company expects to add up to 40 new jobs by the end of 2012.
ForeSee is helping clients assess the effectiveness of their call-center operations, in-store experience, mobile websites and social media presence.
ForeSee CEO Larry Freed believes the company must offer a broad portfolio of services — not just website analysis — because customers can interact with a brand's desktop website, mobile website, Facebook page, Twitter account, call center, physical store, employees and products.
That makes customer research a lot more complicated than it was 20 years ago — but it's provided a significant opportunity for ForeSee.
"You go back 20 years and your local store was all about convenience, it was all about location," Freed said. "The Internet opened that up back 15 years ago. More recently, mobile has taken that to another level. In doing so, consumers have become very multi-channel or cross-channel."
As its services expand, ForeSee has continued to hire workers at its Ann Arbor headquarters.
ForeSee was co-founded in 2001 by Compuware and CFI Group, using technology originally licensed by U-M. In 2007, venture capitalists invested $20 million in the company, buying out Compuware's equity stake.
The company, which hired its 200th employee earlier this year, now has about 235 employees — including about 180 at its headquarters on Green Road in Ann Arbor. The company expects to add another eight to 10 employees by the end of the year and about 30 next year, Freed said.
"We see nothing in front of us that tells us" the growth will stop, Freed said. "We just need to keep executing well."
Contact AnnArbor.com's Nathan Bomey at (734) 623-2587 or nathanbomey@annarbor.com. You can also follow him on Twitter or subscribe to AnnArbor.com's newsletters.