Posted on
Tue, Jun 15, 2010 : 12:47 p.m.
ForeSee Results introduces tool to help clients measure social media marketing impact
By Nathan Bomey
Ann Arbor-based online customer satisfaction firm ForeSee Results is introducing a new service aimed at helping clients understand how much revenue they are reaping from various social media efforts.
The new tool, which ForeSee is calling "social media value calculation," is designed to help businesses measure the impact of their marketing via sites like Twitter and Facebook.
Accurately measuring the impact of social media on revenue is a significant challenge that has largely eluded most industries, experts say.

ForeSee, one of Ann Arbor's largest and fastest growing technology companies, hopes that its new tool can provide answers to perplexed marketers.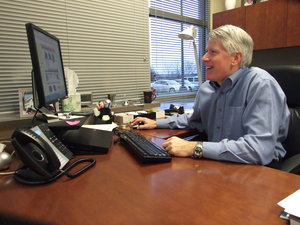 Nathan Bomey | AnnArbor.com
"Most businesses have accepted the marketing value of social media without any real proof points," ForeSee Results CEO Larry Freed said in a statement. "We can count how many Facebook fans, how many Tweets, how many complaints, and how many people click through ads on social sites, but we haven't had a way to calculate a tangible return on investment for social media efforts, not to mention other marketing initiatives. Now we can."
ForeSee is using customer satisfaction measurement technology originally developed at the University of Michigan.

ForeSee reported that its research shows that the impact of social media varies widely depending on the company:
Some companies are spending millions in advertising their social media presence and staffing a team to oversee it, only to discover that social media is influencing 1 percent of all purchases. Meanwhile, promotional emails have been neglected in favor of social media, and emails are influencing 32 percent of purchases. Other companies are seeing social media as a primary influencer of 5-6% of all revenue with a relatively modest investment.
Those findings underscore the variability of social media marketing, which is still widely uneven among even the largest of corporations.
Nonetheless, ForeSee's technology is well positioned to gain interest as companies plunge more marketing dollars into social media.
In 2009, U.S. companies spent $716 million on social media marketing, according to Forrester Research. But that will rise to $3.1 billion by 2014.
The social media tool adds to an increasingly diverse set of services offered by ForeSee, which conducts about 1 million surveys a month to gauge the satisfaction of visitors to the websites of major clients like Best Buy, Target and the federal government. In 2009, the company introduced a new web metrics service to provide a visual snapshot of a web visitor's experience.

The company, which had about 150 employees in January, expects strong revenue growth this year after experiencing a 32 percent increase in 2009.

Contact AnnArbor.com's Nathan Bomey at (734) 623-2587 or nathanbomey@annarbor.com. You can also follow him on Twitter or subscribe to AnnArbor.com's newsletters.