Posted on
Thu, Aug 30, 2012 : 2:55 p.m.
Former Greek church on Ann Arbor's North Main Street to be demolished in September
By Lizzy Alfs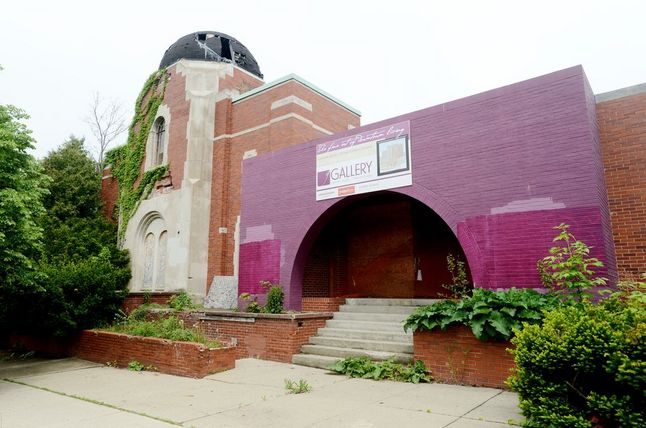 Melanie Maxwell | AnnArbor.com
The blighted building on Ann Arbor's North Main Street that once housed
St. Nicholas Greek Orthodox Church
is set to be demolished in September, Washtenaw County Treasurer
Catherine McClary
said.
The property, on the 400 block of North Main Street in Ann Arbor's Kerrytown district, has broken windows, a hole in the roof and has been noted for safety and crime concerns.
"(The property) creates a blight on the downtown and it creates a crime issue," McClary said. "It's been difficult because people have wanted to inhabit it and sleep there. ... There have been complaints of crime and people wandering through there."
In 2006, the North Main Street property was zoned as a planned unit development (PUD) when North Main/Fourth Ventures LLC proposed a 158-foot multi-family residential development called "The Gallery."
It has since been turned over to the county treasurer following a tax foreclosure, and the property is up for auction starting Sept. 6 for a minimum bid price of $365,051.
McClary estimated that of the $365,0561 minimum bid price, the cost of demolition and past site cleanups is about $110,000 — which is being fronted with money from the treasurer's reserve fund from its foreclosure prevention program.
If the property doesn't sell at the Sept 6. auction, there will be a second auction starting Oct. 18. If it still doesn't sell, McClary said it would return to the government entity that wants to pay a performance bond for the cost of demolition.
McClary expects a chain-link fence will be installed at the site on Sept. 6 and the tentative demolition date is Sept. 10. It will last about 15 business days and the parking spaces in the rear of the building will be closed off during demolition. The contractor for the project is Warren-based Blue Star Inc.
"Obviously, (demolition) won't be completed by the end of the auction, but we are notifying people on the auction site that they aren't buying that blighted structure," McClary said.
Although it's difficult to predict the level of interest in the upcoming auction, McClary said the upside to the property is it's a "prime Main Street location."
"It's hard to believe that it wouldn't be worth $365,000," she said.
Last week, Ann Arbor City Council Member Stephen Kunselman proposed rezoning the PUD site to the city's D2 downtown zoning, which would give it a new height limit of 60 feet rather than the current allowable 158 feet.
The proposal failed to win support at city council's Aug. 20 meeting.
McClary said one of the "downsides" to redeveloping the property is that it has an easement held by its neighbor to the south — McKinley Inc. — for 57 parking spaces. The easement was agreed upon when The Gallery project was proposed.
"Easements don't get foreclosed upon," McClary said. "If you had a piece of property that went to tax foreclosure and your neighbor had an easement because you shared a driveway, that easement doesn't go away."
She added: "Whomever buys the property is going to have to work with McKinley on what they want to develop there."
Lizzy Alfs is a business reporter for AnnArbor.com. Reach her at 734-623-2584 or email her at lizzyalfs@annarbor.com. Follow her on Twitter at http://twitter.com/lizzyalfs.