Posted on
Mon, Aug 20, 2012 : 2:15 p.m.
Ann Arbor City Council to consider resolutions on former Greek church property, Y lot
By Ben Freed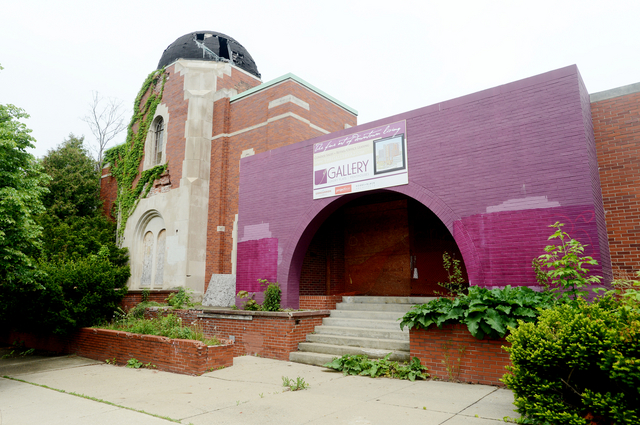 Melanie Maxwel | AnnArbor.com
The Ann Arbor City Council tonight will consider two proposals that could affect the future of two high-profile properties in the city.
One is the Fifth and William parking lot on the old YMCA property at 350 S. Fifth Ave. The other is the decaying building formerly occupied by the former Greek church at 414 N. Main St.
Both resolutions, added on Friday, are sponsored by council member Stephen Kunselman (D-Ward 3).
The first resolution would call for the city administrator's office to initiate a process independent of the Downtown Development Authority to examine possibilities for the Fifth and William parking lot. The parcel is part of the DDA's "Connecting William Street" planning effort.
"We have a balloon payment of $3.5 million due I think in Dec. 2013," Kunselman said.
"We can't just show up in '13 and say, 'let's just extend it with interest-only payments' like we've been doing since 2003. My resolution is to light a fire under the council and under the mayor in particular to start moving the ball."
The property has been a source of consternation for the city. With demolition costs, rent for displaced occupants, interest-only payments, and a lawsuit, Kunselman estimates the city has already sunk $6 million into the property.
"I'm tired of throwing money into a hole," he said. "Or in this case onto a surface lot."
Kunselman's resolution would not effect the DDA's handling of the other four properties that are a part of the Connecting William Street project.
The other resolution added on Friday would begin a rezoning process for old St. Nickolas Church at 414 N. Main St. in Kerrytown. Since its forclosure earlier this year, the property has been under the control of the Washtenaw County treasurer's office.
In 2006, the lot was zoned as a planned unit development (PUD) when developers submitted a plan to build a 158-foot multi-family residence that would be known as "The Gallery." Kunselman wants to down-zone the property to a downtown interface (D-2) parcel with a height limit of 60 feet that would more closely match the surrounding neighborhood.
"The community had this expectation that the Kerrytown neighborhood would have a height limit of 60 feet," he said.
"It sounded good, but it's a failed project, and we need to remove the scar of that PUD. I don't feel that my role as a council member is to be an enabler of someone else's fantasy."
Kunselman said that some council members likely would be hesitant to downzone the property because they believe it will be more valuable to developers if they can build higher. However, the property already has an obligation to provide 57 parking spots to the neighboring property owner and the PUD zoning comes with a commitment to build at least 18 affordable housing units. Kunselman believes these restrictions will scare away developers more than a change in zoning.
"If it's worth so much as a PUD property, why did it go to county tax forclosure?" he asked. "It's got a lot of problems."
The property will be up for auction starting Sept. 6 through Sept. 11. The minimum bid, equal to the back taxes owed plus demolition costs, is $365,051. While Kunselman recognizes that any rezoning cannot be accomplished before the auction, he wants it to be public that it is an option as the process moves forward.
Tonight's city council meeting will be held at 7 in the City Hall Council Chamber, 301 E. Huron St. Meetings are open to the public and televised on CTN Cable Channel 16.
Ben Freed covers business for AnnArbor.com. Reach him at 734-623-2528 or email him at benfreed@annarbor.com. Follow him on twitter @BFreedinA2