Posted on
Fri, Mar 11, 2011 : 6:35 a.m.
Former J Neil's Mongolian Grille in downtown Ypsilanti could reopen as US 12 Bar and Grill
By Tom Perkins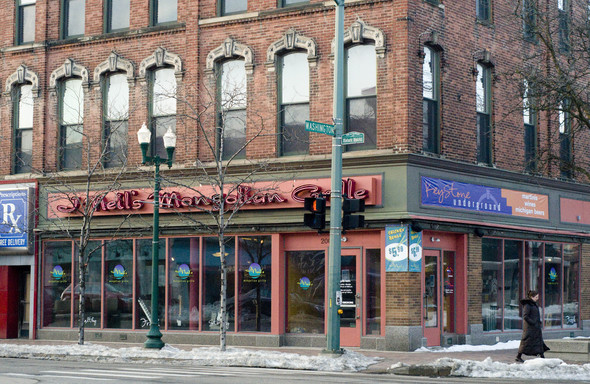 Tom Perkins | For AnnArbor.com
The owner of a Wayne nightclub and restaurant is exploring the feasibility of opening a downtown Ypsilanti location with several local partners.
John Goci, who operates US-12 Bar and Grill on Michigan Avenue in downtown Wayne, and local businessman Jamie Clippert, signed a contract with Maurer Management to hold the former J Neil's Mongolian Grille and Keystone Underground locations for 60 days.
The contract was signed two weeks ago, and Goci is hopeful to have a better picture of what an ownership situation would look like and how the project can move forward within the next week.
Goci said the "US-12 west" location would be similar to the one in Wayne. It is a sports bar during the day and early evening, then transforms to more of a small rock club at night.
He said the former Keystone Lounge would host live music, while the former J Neil's would offer a sports bar ambiance. Goci said the bar may only serve burgers, fries, hot dogs and a few other items on a very limited menu, but several other possibilities - such as an omelet bar - are being considered. Goci added that he hopes to keep the location open 24 hours and provide wireless internet access.
Clippert's family has deep roots in the city and area. In the mid 1800's, they made their fortune in the region establishing the Clippert Brick Company, and Clippert wants to use the former Keystone to create a theme that celebrates that heritage, Goci said.
Goci, who is the treasurer for the Wayne-Westland Community Schools Board of Education, is estimating investing $100,000 to renovate and establish the new location, and the ownership configuration is still being discussed. Aside from Clippert and Goci, former J Neil's and Keystone owner Dave Curtis, who owns the liquor license at that address, is part of the talks, Goci said.
Clippert's "story" and the location are what got Goci involved in exploring opening another US-12. He underscored that he wouldn't open a new location just for financial reasons.
Clippert is an active member of the American Dystonia Foundation, which causes involuntary muscle movement, and he has fallen increasingly ill in recent months. Goci said Clippert wants to leave his children and the community something when he passes on, and has shown a tremendous amount of energy in developing the project.
Clippert was most recently in discussions with Ypsilanti property owner Joe Lawrence about opening a medical marijuana dispensary in downtown Ypsilanti. Medical marijuana is used to relieve dystonia symptoms.
Goci said helping Clippert is his main motivation for getting involved with opening the bar.
"His story just really touched me, and the fact that he wants to do something to remember his family in the downstairs is great," Goci said. "I'm not doing this as a business - I'm trying to help him, and when I help somebody it in life, it comes back to me 10-fold.
"I'd also like to help bring some life back to that life back to that block. It's such a great area," Goci added.
Ultimately, Goci and Clippert want to see the revitalization of the entire Washington Street block of nightclubs, including the former Pub 13 and Savoy. Curtis owned those properties until the size of disputed DTE Energy bill forced him to close just before the bank took possession of them. The Pub 13 and Savoy buildings are now in foreclosure.
"My God, I would love to be the guy who's a catalyst to draw some other investors out there, but for now I'm just weighing everything and seeing where the opportunity stands," Gocis said. "This is the starting point and that area is something that we can save. "