Posted on
Thu, Feb 4, 2010 : 5:57 a.m.
DTE officials talking with Ann Arbor about using ex-MichCon property for rail parking
By Tom Perkins
With a commuter train to Detroit scheduled to start service at Amtrak's Depot Street Station in Ann Arbor around the year's-end, the city is looking to triple parking available near the stop.
The former MichCon service station property north of the station on Broadway Street - where owner DTE Energy recently demolished a 23,000-square-foot building - is emerging as an option, and the utility officials confirmed it has met with the city to discuss the possibility.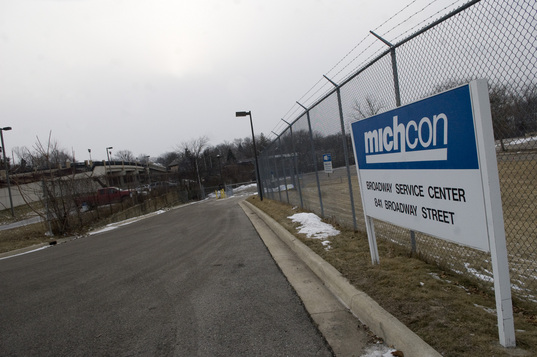 Tom Perkins | For AnnArbor.com
"We have had some discussions with city's transportation department about the property's use for parking for the rail passengers," John Austerberry, a media relations representative with DTE Energy, said. "We're open to continuing to talk to them about it, but we haven't come to any conclusions on it yet."
The city would only temporarily use the lot until a new station opens near the University of Michigan Hospital on Fuller Road, but Austerberry said it's too early to know how that would affect a potential agreement.
The facility on Broadway, which borders the northern bank of the Huron River just south of Swift (see map here), served as an office and garage to support MichCon's Ann Arbor-area operations until 2007 when the company began servicing the bulk of the area out of a facility in Belleville.
The property's main building sat vacant until this past fall when DTE Energy began "deconstructing" it, which was completed in January. Austerberry explained deconstruction is essentially recycling a building, and 95 to 99 percent of the property's main facility was reused or recycled.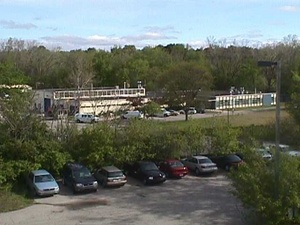 City of Ann Arbor
He said lockers were donated to a youth boxing program in Lansing, fixtures were donated to Habitat for Humanity and ceiling tiles were packaged up for reuse. Plumbing fixtures, projector screens, partitions and window blinds were also donated to community groups. The concrete blocks, structural steel and Freon were all recycled.
The company also relocated a flagpole fashioned out of gas pipes by World War II and Korean War veterans shortly after the facility opened.
Austerberry said the cost of deconstruction is roughly equivalent to traditional demolition, but requires significantly more time for planning and coordination.
"We do it when it's appropriate and practical," he said. "It eliminates material going into landfills because we're recycling 95 to 99 percent of it - it diverts all of that material from the landfill stream."
Deconstructing the facility eventually will result in a lower assessed value, dropping the tax payments - which totaled $44,000 in 2009. Austerberry said a figure on how much the company will save is not yet available, but the motivation behind the deconstruction was to eliminate a derelict building.
"We didn't want the building to become an eyesore," he said.
Peter Allen, adjunct faculty at the University of Michigan Ross School of Business and Taubman College of Architecture and Urban Planning, said there is much greater potential in the site beyond use as a lot.
He says that with the Ann Arbor to Detroit Rail's success and the Amtrak Station moving to the Fuller Road Station, then an opportunity is presented for the community to access the river and connect the Allen Creek Greenway.
"It's going to create a great, big hole in front of MichCon and that creates a way for the community to access the river," he said. "I think that is an important feature of this site, but its probably three years away."
Allen added that if the rial line is successful, then ten years down the road he sees the potential for two high density, mixed-use in fill neighborhoods on the combined 14 acres of the MichCon property and in nearby "Lowertown."
This story has been edited to correct the spelling of a name.