Posted on
Fri, Dec 3, 2010 : 6:02 a.m.
From French to Cuban: Eve Aronoff's Frita Batidos restaurant opens Tuesday in downtown Ann Arbor
By Janet Miller
Janet Miller | For AnnArbor.com
For former
"Top Chef" contestant
Eve Aronoff
, Frita Batidos will be a second dream come true.
When Aronoff opened eve the restaurant in Kerrytown in 2003, she had two dreams: Opening a fine dining, French-style restaurant or a much more casual Cuban-influenced eatery.
While eve the restaurant won the first round, her other dream comes true on Tuesday, Dec. 7, with the opening of Frita Batidos at 117. W. Washington in the heart of downtown Ann Arbor.
The 1,500-square-foot long and narrow space with white floors, a white-painted brick wall and white tables will have seating for 50. The restaurant will employ 25 people.
Frita Batidos will be as casual as eve the restaurant is proper.
The menu centers around Aronoff's version of fritas, Cuban burgers typically made from spicy chorizo topped with shoestring fries and served on a soft egg bun, and bantidos, tropical milkshakes made with fresh fruit and crushed ice. It's a menu that Aronoff has had in her head for eight years.
But it's not a traditional Cuban restaurant, she said.
"The recipes aren't traditional at all. It's more that it's inspired by the culture." The menu reflects her style of using fresh and locally sourced food and is influenced by the Cuban food she grew up with when she visited her grandmother in Miami.
Aronoff is Ann Arbor's claim to having a celebrity chef: She was one of 17 chefs to compete in Bravo television's reality show "Top Chef" in the summer of 2009.
At Frita Batidos, There will be a variety of fritas, from vegetarian black bean to white fish and turkey. She'll offer Cuban-style pressed sandwiches such as lemon grass roasted pork and Tasso ham. There will be black bean cream soup in the winter and gazpacho in the summer.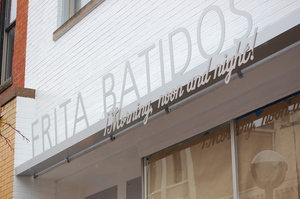 On the snack side of the menu, there will be conch fritters and twice fried rite plantains. "But our core will be burgers and shakes," Aronoff said.
She has applied for a liquor license and is waiting for approval. She hopes that will come in a couple of months. Then she will offer a small wine list, which will include three reds and three whites along with tropical drinks (including rum traditionally found in the batidos).
But the Cuban influence will be unmistakable, right down to the walk-up window on the front of the restaurant. It will be used year-round for carry out and to order coffee and snacks. They are found in traditional Cuban restaurants in Miami and it was key to have one at Frita Batidos, despite a number of hurdles that had to be jumped to have it installed, she said.
"It was really important to have it. It makes it special."
Frita Batidos activity is starting before its public opening: It's hosting an invitation-only opening on Friday, and plans a "soft opening" for family on Sunday, Dec. 5.