Posted on
Sat, Aug 14, 2010 : 6 a.m.
Frita Batidos preview gives diners a glimpse into Eve Aronoff's new venture
By Jessica Webster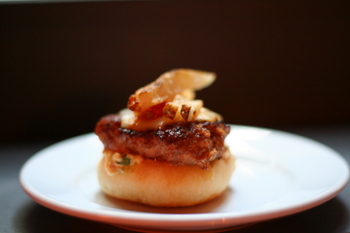 Jessica Webster | AnnArbor.com
Fans of eve the restaurant got a taste of owner Eve Aronoff's upcoming "Cuban-inspired" restaurant Frita Batidos Wednesday evening during a preview event held at eve.
About 120 patrons attended and paid $35 a head for an "all you can eat strolling buffet" that highlighted many of the dishes Aronoff plans for the new space.
Frita Batidos is currently scheduled to open early this fall at 117 W. Washington St., in the space formerly occupied by Cafe Du Jour. The name is derived from two classic Cuban foods: fritas, a Cuban-style hamburger, and batidos, a milkshake-type drink made with crushed ice and tropical fruits.
But the key word in Aronoff's description of the restaurant is "inspired." Frita Batidos will not be a Cuban restaurant, or even a Cuban-themed restaurant. While there are elements of Cuban cuisine present in most of the dishes, this restaurant will be classic Eve.
"I was inspired by the Cuban culture, and really feeling the spirit of the Cuban people," Aronoff said, when reached by phone earlier this week. "But this will still very much be my style of cooking: fresh local ingredients and a menu that will change with the seasons."
Aronoff's style was evident in the dishes presented at Wednesday night's preview tasting. In addition to traditional Cuban flavors like lime, garlic, onion and avocado, you could also find her usual cross-cultural spice blends. Chicken wings were coated in a chili lime tamarind glaze. "Mexico City corn" was rolled in a melange of spices that Aronoff dreamed up with her kitchen team. 

Frita Batidos preview menu
Cilantro Butter Plantains
Conch Fritters
Chili Lime Tamarind Chicken Wings
Chorizo Frita
Turkey Frita
Black Bean Frita
Pulled Pork Sandwich with Tropical Cole Slaw
Cuban Sloppy Joe Inspired Cuban Sandwich
Tropical Salad
Black Beans
Coconut-Ginger Rice
Cilantro Lime Salsa
Mexico City Corn
Tropical Coleslaw
Tres Leches
Rum Macerated Pineapple
Batidos
On the whole, the dishes were tasty, if perhaps a bit familiar-tasting to regular eve patrons. The execution, however, left diners frustrated. After an initial flurry of appetizer activity, the flow of food out of the kitchen slowed to a crawl. Hungry customers paced the dining room, pouncing on the small trays of food that trickled out to the buffet table. "I feel like our ancestors must have felt when they hunted for food," laughed a hungry diner.
"We've done tastings for Frita Batidos before," explained Aronoff, "and we've gotten 35 to 50 people. We had 120 people show up for this one, and those reservations didn't come in until the last day or two. We just weren't planning on that many people, and this was a group of voracious eaters. We put out a ton of food, but there was a half hour period where we were in between courses and slow getting more food out. "
Aronoff stresses that while the menu she featured on Wednesday night represents the food people will be able to find at her new restaurant, the service is not. "We'll definitely have more of an even keel," she said.