Posted on
Wed, Dec 12, 2012 : 5:57 a.m.
Washtenaw Avenue gas station owner requests 2-year site plan extension for redevelopment
By Lizzy Alfs
The owners of a Shell gas station on Washtenaw Avenue requested a 2-year site plan extension for redevelopment plans that would result in an expanded convenience store and drive-thru restaurant.
The plans, approved by Ann Arbor City Council in 2009, call to demolish the existing gas station and auto care center on the 1.32-acre site at 3240 Washtenaw Ave., next to Huron Parkway.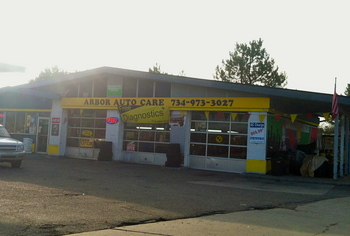 It would be replaced with a new gas station convenience store and drive-thru restaurant nearly twice the size of the existing building at 4,507 square feet. Plans call to reconfigure the gas pumps and parking lot to accommodate 18 parking spaces and five pump stations.
The developer also plans to add a sidewalk at the corner of Washtenaw and Huron Parkway to enter the site.
In 2009, the plans were originally approved for a Tim Hortons restaurant to open in the building, but the commercial zoning would allow for any type of restaurant use.
It's unclear why the plans were delayed and whether the property owner, Kassem Beydoun of Safeway Acquisition, has a tenant secured for the drive-thru portion of the building or if a deal is being worked out with Tim Hortons. Both Beydoun and a Tim Hortons representative did not respond to requests for comment.
The property has an assessed value of $729,000 for the 2012 tax year.
Just west of the gas station site is the under-construction Arbor Hills Crossing development, which is expected to bring a mix of tenants, including food use, apparel and specialty retailers. The developers haven't released a timeline for the project, but construction work is under way and the first retail tenant, Hot Mama, was announced in October.
Lizzy Alfs is a business reporter for AnnArbor.com. Reach her at 734-623-2584 or email her at lizzyalfs@annarbor.com. Follow her on Twitter at http://twitter.com/lizzyalfs.