Posted on
Mon, Jun 25, 2012 : 5:58 a.m.
Tortoise and Hare running shop moving to smaller storefront at Traver Village
By Janet Miller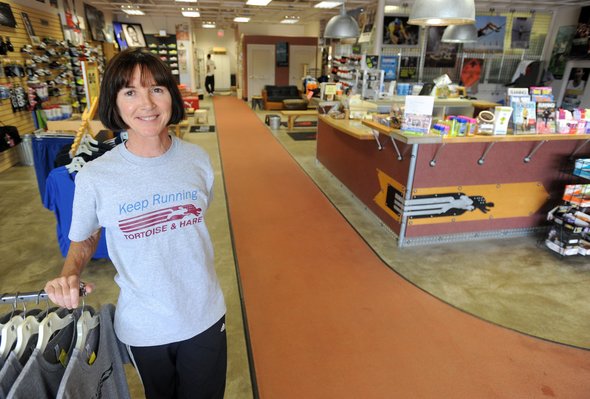 Angela J. Cesere | AnnArbor.com
Tortoise and Hare
, established in 1978 as one of the Midwest's first specialty running shoe retailers, is making strides to keep pace with the changing times. The
Traver Village
store is downsizing, moving a few storefronts south, closer to the center of the northeastern
Ann Arbor
strip mall on Plymouth Road.
Angela J. Cesere | AnnArbor.com
Tortoise and Hare will move into space that had been occupied by a wing of
Crown House of Gifts
. While Crown House remains in its location, it also is downsizing.
Tortoise and Hare will leave the 3,000-square-foot store adjacent to the anchor Kroger and move into the new 1,800-square-foot space by the end of this week, said Monica Joyce, store manager. The build-out, which includes a wall separating Crown House and Tortoise and Hair, an entry door, a bathroom and a changing room - is nearly finished.
While Tortoise and Hare is losing 1,200-square-feet of space, much of it is in storage space. The floor space will not be much smaller, Joyce said. "The new space is more in line with where we are at as a business now."
Sales have fallen close to 40 percent since the economy took a hit in the fall 2008, Joyce said. Sales plummeted nearly overnight, she said.
"We were hit so fast, we didn't have time to adjust. We had orders coming in." Since, they've studied their business plan and made efficiencies to reduce costs, including fine-tuning inventory, which now requires less space.
The store has been cutting costs - from not replacing staff to recycling paper to write notes - to save money. Rightsizing is part of that continuing strategy, Joyce said. "You do what you can to survive. Over time, you get more efficient."
Even though the lease for the storefront next to Kroger isn't up until next year, landlord First Martin Corp. allowed the move, Joyce said.
Tortoise and Hare opened in downtown Ann Arbor in 1978 as the national running craze caught fire. They opened the Traver Village store 14 years ago, but closed the downtown store two years ago. They also have a small shop inside the Health and Fitness Center at Washtenaw Community College.