Posted on
Fri, Aug 30, 2013 : 5:54 p.m.
Large Kraft macaroni noodle spotted at Michigan Stadium to be removed Friday night
By Ben Freed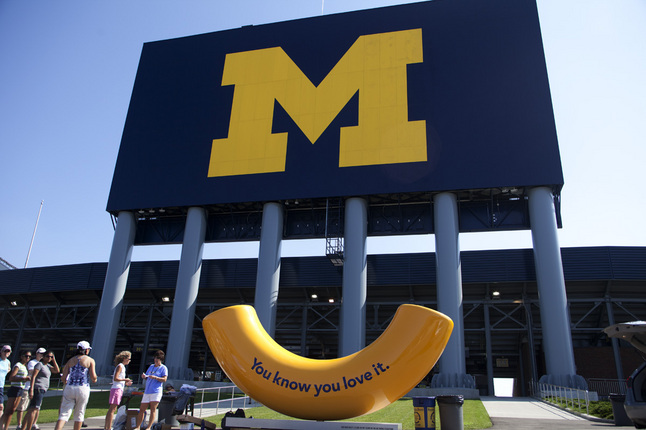 Patrick Record | AnnArbor.com
If you haven't canoodled with the giant noodle stationed next to the Michigan Stadium scoreboard already, you may have missed your chance.
The tempers of Michigan football purists were boiling over on Twitter Friday in reaction to what they felt was a promotion too cheesy for the Big House.
Those with negative reactions to the noodle included student body president Michael Proppe who tweeted "Nothing says @umichfootball tradition like a giant noodle under the scoreboard! I predict many angry donors."
Fears of a noodle-tainted game day turned out to be unfounded. The massive macaroni, owned by Kraft Foods Inc., will be removed from the grounds of the stadium long before game time, University of Michigan assistant athletic director David Ablauf said.
"It's actually kinda funny, everyone seems to be fixated on a noodle and not about a football game being played tomorrow," he said.
"… but it will be moved out of the stadium this evening."
The noodle was on site for the inaugural W.O.W. Friday event that the athletic department will be holding on Fridays prior to home football games throughout the season.
The "Welcoming Our Wolverines" initiative is designed to give fans and students access to Michigan Stadium during non-game times. Ablauf said that since September 11, 2001 it has been difficult arrange tours and other events to show off the Big House.
According to a news release, 60-minute tours of the Crisler Center and "select areas of Michigan Stadium" will be available on W.O.W. Fridays for $10 per person.
Ablauf said that the Kraft noodle, which has the company's "You Know You Like It" slogan printed on it, was brought in to help kick off the events.
"It's on site for the event," he said. "Fans can take their picture with it, it's something different."
Ablauf said he is unsure where the noodle will be moved, or if it will return for future W.O.W. Friday events. He said that the sponsorship agreement to have the noodle at the stadium was between Kraft Foods and IMG College, which handles Michigan's corporate sponsorships.
The noodle has been featured over the past 2 years at sites such as Wrigley Field in Chicago, Love Park in Philadelphia and Fisherman's Wharf in San Fransisco.
Kraft Foods Company could not be reached Friday for comment.
Ben Freed covers business for AnnArbor.com. You can sign up here to receive Business Review updates every week. Get in touch with Ben at 734-623-2528 or email him at benfreed@annarbor.com. Follow him on twitter @BFreedinA2