Posted on
Thu, Aug 29, 2013 : 5:59 a.m.
7 changes Wolverine football fans can expect at Michigan Stadium this fall
By Kellie Woodhouse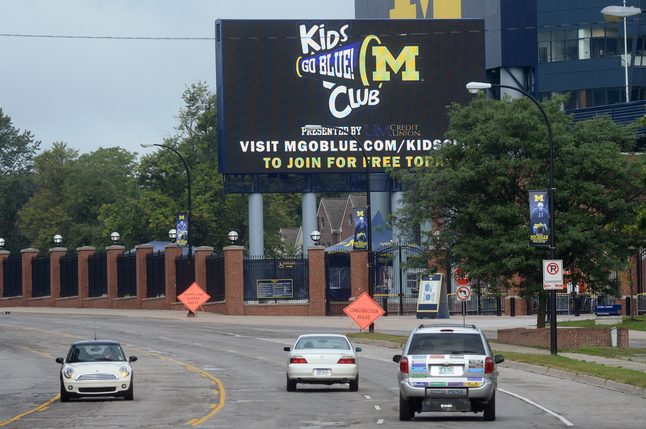 Melanie Maxwell | AnnArbor.com
It's officially football season again in Ann Arbor.
That means tailgating will be in full swing this fall, tens of thousands of fans will descend upon the Big House on Saturdays beginning this weekend and Ann Arborites will be indistinguishable in a sea of maize and blue.
But included in the mix are some things fans might not be used to: a 48-foot-wide video marquee outside Michigan Stadium, a brighter bowl due to a $6 million stadium paint job and a very long line outside the stadium as University of Michigan students jockey for the best seats under the venue's new general admission seating policy.
Michigan Stadium will also be hosting it second-ever night game when the Wolverines play Notre Dame on Sept. 7.
Here's a look at seven changes you can expect at the stadium and on football Saturdays this fall.
1) General admission seating in the student section
Michigan for the first year is adopting a general admission seating policy, as opposed to the school's historic practice of seating students based on seniority. The change means that seniors and juniors aren't guaranteed student section seats near the action, as they were before. Now they'll have to get to the stadium early to secure a seat near the field or at the 30-yard line.
The policy changed to encourage early attendance to games so the stadium is full and the Wolverines have a home field advantage. Last year, the student section averaged a 25 percent no-show rate at home games, up from 21 percent the year before. On average about 50 percent of the student section was present during kickoff, according to Hunter Lochman, a senior associate athletic director in charge of the department's marketing efforts.
"The straw that broke the camel's back was probably the Northwestern game last November. We were fighting for the division lead and you looked up at kickoff and it was 50 percent full, which was disappointing," he said.
"We knew we had to try something new."
2) Main Street closure
It will be a lot easier for pedestrians to walk around the stadium on game day, but more difficult for motorists to navigate around the city. That's because the Ann Arbor City Council agreed to close South Main Street — from Stadium Boulevard to Pauline Boulevard — during and before home games.
The northbound lane on Main will be closed three hours before the games until the games end; the southbound lane will be closed an hour before the game starts and during the game. Residents who live along the affected stretch of Main and fans who pay to park in residential yards will be allowed to access properties along Main.
Traffic will be detoured using Pauline and Seventh Street.
The council approved the closures in a 7-4 vote. The university will reimburse the city for additional police presence required to enforce the closures.
"It's to help better ensure the safety and security of patrons as well as surrounding neighborhoods," Jim Kosteva, the school's community relations director, said in July, adding that U-M officials think the measure will "reduce the potential for vehicle-borne attacks."
3) A 48-foot wide marquee
Wondering what the oversized flatscreen is doing outside Michigan Stadium?
With a $2.8-million price tag, the marquee was installed over the spring and summer. The audio-capable board, which is visible from Stadium Boulevard, stands 21 feet above the ground and is 27 feet tall and 48 feet wide. U-M plans to use the board to promote athletic department events and live stream warm-ups and game plays during the game.
4) A line and chute system for student entry
If students want a premium seat, they'll have to show up early— especially for big events like the upcoming Notre Dame night game. For noon and 3:30 p.m. kickoffs, the athletic department is allowing students to begin lining up at 7 a.m. in a queue that will run from stadium Lot SC 2, head north on Greene Street and spill over onto East Hoover Avenue if necessary. Students can start getting in line at 11 a.m. the day of the Notre Dame night game.
Students will not be allowed to camp out overnight prior to the day of a game.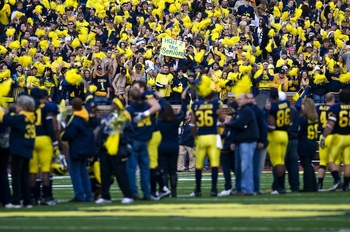 Joseph Tobianski | AnnArbor.com file
The athletic department plans to have portable bathrooms in place for students in line. There will also be a DJ, cellphone-charging stations, water stations and free food. The department is hoping to create a fan experience in the line because, as Lochman puts it, "we're fighting with 60-inch TVs and kids sitting at home pre-gaming."
U-M officials aren't allowing alcohol consumption in line. The athletic department hired a security firm to help U-M police monitor the line and enforce the no alcohol rule. Lt. Renee Bush said the Ann Arbor Police Department is not making any special plans for policing the area where students will be lining up.
About four hours before kickoff, the first 3,000 students in line will be given wristbands that allow them into the first 22 rows of the student section. The rows will be divided into four chutes, with each chute labeled a letter of coach Brady Hoke's last name. Students are allowed to pick their section until each chute is full.
Students will be let into the stadium three hours before kickoff— an hour earlier than other fans.
Getting in line will likely guarantee a student a premium seat, but it might not be necessary in order to nab one.
"One of the biggest issues we faced when we announced [the general admission seating policy] were the irate upperclassman or parents of upperclassmen who said, 'Now my kids have to wait all day in line to get a decent seat.' I disagree with that because a decent seat is in the eye of the beholder," Lochman said. "You might be able to show up half an hour before kickoff and still get a seat right at the 30-yard line."
The athletic department is launching a website to help guide students through the game day process. The website will have a webcam on which students can watch a live feed of the general admission queue. The website, which is still under construction, will also include a ticket marketplace where students can communicate about selling and buying individual student tickets.
5) A smaller student section
The student section this year includes about 20,000 students — or 2,000 fewer than the previous year. The smaller student section led the athletic department to open up 2,000 seats at the back of the section to non-student ticket holders.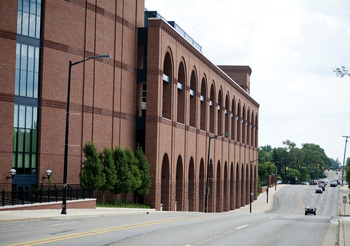 Daniel Brenner | AnnArbor.com
Student ticket prices rose 23 percent per game this year due to a $7.50 per-game increase that will be funneled to gym renovations. Michigan plays seven home games this year, one more than last year. The price, coupled with the new student seating policy, likely contributed to the decline in tickets.
The schedule could also have a bearing on student interest, although this year home games include the school's second-ever night game and the Ohio State game.
"Depending upon what your home schedule looks like, sometimes that will dictate the ebb and flow of demand," Dave Ablauf, the department's associate athletic director in charge of public relations and media, said.
6) A newly painted stadium bowl
It cost the Michigan athletic department $6 million, used 3,500 gallons of paint and took 50 workers to complete — but the iconic Big House now has a fresh coat of paint. Crews blasted the old paint off and applied new paint using airless spray pumps.
The result? A brighter, newer-looking Michigan Stadium.
7) A looser student loyalty program
Last fall Michigan launched its HAIL student loyalty program. The intent was to reward students who regularly attend U-M sporting events, giving them loyalty points for attending non-revenue sports or for getting to revenue sports on time.
For example, students had to get to home football games 20 minutes before kickoff and stay for the duration of the game to receive the maximum loyalty points for attending that game. Students' location was tracked using an app on their smartphones.
This year, however, students will get points for simply having their ticket scanned — regardless of when they come or leave. The change is largely due to connectivity issues at the stadium. With more than 110,000 fans filtering in and out of the stadium on game days, cellphone reception is unreliable.
Kellie Woodhouse covers higher education for AnnArbor.com. Reach her at kelliewoodhouse@annarbor.com or 734-623-4602 and follow her on twitter.