Posted on
Tue, Oct 4, 2011 : 10 a.m.
Global pharmaceutical executive joins Ann Arbor-based Lycera as CEO
By Nathan Bomey
Ann Arbor-based biotech firm Lycera Corp. recruited a major pharmaceutical industry executive to serve as its next CEO.
Lycera hired Kathleen Metters, former senior vice president and head of worldwide basic research for global pharmaceutical company Merck, as its new CEO. The appointment comes seven months after Lycera struck a research and licensing deal with Merck that could be worth more than $300 million.
Metters, who spent more than 20 years at Merck, most recently served as senior vice president of external discovery and preclinical sciences.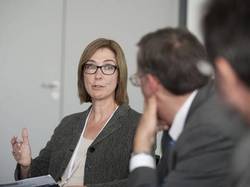 Photo courtesy of WorldHealthSummit.org
Lycera had been without a CEO for about a year since the Massachusetts-based CEO Bill Sibold resigned after less than a year with the company.
Lycera founder Gary Glick, a University of Michigan scientist, will continue to serve as chief scientific officer.
"We are thrilled to have Kathleen assume the leadership of Lycera at such an exciting time in the company's evolution," Glick said in a statement. "Kathleen brings extensive experience overseeing compounds from discovery through development, which will be valuable as we expand our pipeline through internal R&D efforts, as well as in-licensing opportunities."
Glick told AnnArbor.com in an email that Metters' appointment was "completely unrelated" to the licensing deal with Merck.
The hiring also comes after Lycera signed a deal to lease 14,134 square feet of offices and lab space at an ex-Pfizer building now owned by U-M.
Lycera is developing therapies to treat various autoimmune diseases, including rheumatoid arthritis, psoriasis and multiple sclerosis.
Contact AnnArbor.com's Nathan Bomey at (734) 623-2587 or nathanbomey@annarbor.com. You can also follow him on Twitter or subscribe to AnnArbor.com's newsletters.