Posted on
Wed, Dec 1, 2010 : 6:02 a.m.
Willow Run factory auction to reap millions as General Motors closes Ypsilanti Township plant
By Nathan Bomey
The list of equipment once used at General Motors' 5 million-square-foot Willow Run plant -- machines now on the auction block with the plant closing this month -- reads like an obituary for Michigan's manufacturing past.
But auctioneers are confident that the sale will reap "millions" for Motors Liquidation Co., a legal entity often referred to as "Old GM," which was created during GM's 2009 bankruptcy proceedings as a way to handle the automaker's unwanted assets.
The equipment -- complex machines such as the Abmessungen RB TS-SW-FK 0450/EBAD-3000PBF coil feeder, otherwise known as a fineblanking press line -- will be sold Thursday in an auction at the plant in Ypsilanti Township.
It's the second of three auctions of the industrial manufacturing machines filling the historic plant, which will close its doors Dec. 23 as
part of a plan GM announced in June 2009
. A first auction was held a few weeks ago -- and a third is planned for March, after the plant has completely closed and the 320 remaining employees are gone.
Two firms that specialize in industrial equipment auctions are managing the sale: Hilco Industrial Co. and Maynards Industries Ltd.
Taso Sofikitis, president of Maynards Industries' USA operations, said he anticipates that the auction will reap "millions" for Motors Liquidation Co., though he declined to be more specific. He said none of the property was of a historic nature.

Sofikitis said he's expecting 300 to 500 people to attend the auction, including about half by webcast.
The items include high-speed stamping press lines, grinders, broaching machines, spline rollers, hydraulic press brakes and assembly machines. According to a recent Wall Street Journal report, some pieces of equipment at ex-GM plants are being sold for hundreds of thousands of dollars.
"It's of significant value," Sofikitis said. "You're going to have other manufacturers, whether they're from the auto industry or another industry. You're going to have resellers. Anyone making any type of gear would be interested in this type of equipment."
Robert Levy, managing partner of Hilco Industrial, said in an e-mail that the auction would attract an "international crowd."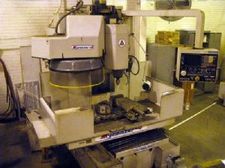 Photo courtesy of Maynards Industries
"This is a global webcast sale where in the room bidders will compete with on-line bidders in real time," he said.
Bidders can sign up to attend the auction through the auctioneers' website. But there's a catch. Several, actually:
--The equipment is sold "as is," which is why the auctioneers are encouraging people to attend a preview today to assess the quality of the equipment.
--Buyers must pay immediately and in full - taxes, too - and no returns are allowed.
--An auctioneer's premium of 13.5 percent for in-person bidders and 16 percent for webcast bidders will be assessed.
--The equipment must be removed from the Willow Run site by Jan. 31.
"Some of the equipment is easier to get out than others, but by the end of January it won't be an issue," Sofikitis said. "Everything should sell. The market will dictate the prices, but we have an idea of range of value for every asset."
GM is closing the massive Willow Run plant's doors for good on Dec. 23. GM has declined to discuss how it's marketing the site, but local economic development officials have said they view it as part of regional efforts to create an "aerotropolis," a hub of the transportation economy.
The plant, which sits on a 335-acre site and produced bombers during World War II, employed some 14,000 workers at one point in the 1970s. It was down to about 1,300 workers when GM announced its closure last year.
Today, about 320 employees are working at the site, a GM spokeswoman said.
Contact AnnArbor.com's Nathan Bomey at (734) 623-2587 or nathanbomey@annarbor.com. You can also follow him on Twitter or subscribe to AnnArbor.com's newsletters.