Posted on
Sun, Dec 5, 2010 : 6:02 a.m.
GM Willow Run plant's repositioning may hinge on Aerotropolis, Willow Run airport
By Nathan Bomey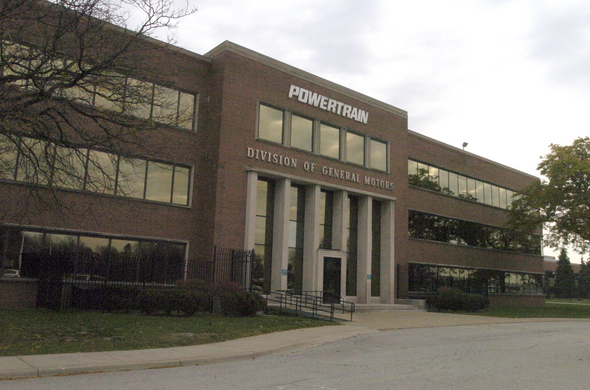 File photo | AnnArbor.com
The proximity of General Motors' 5-million-square-foot Willow Run plant to Willow Run Airport - they're located right next to each other - is emerging as a pillar of the marketing plan for the site.

Local economic development leaders, political officials and the company managing the 335-acre Ypsilanti Township site are optimistic that the complex could benefit from a push to attract more logistics and transportation companies to Southeast Michigan as part of the so-called Aerotropolis initiative.
The soon-to-be-shuttered plant's repositioning would be a major boon to the Aerotropolis plan, which aims to leverage state tax incentives and renaissance zones to entice shipping companies to establish operations revolving around Detroit Metropolitan Airport and Willow Run Airport.
Increasing metro Detroit cargo traffic -- which dipped from 485.6 million pounds in 2003 to 464.9 million in 2008 and 357 million in 2009 -- is considered key to the Aerotropolis hopes.
The GM factory's "proximity to the airport we think makes it an attractive site potentially for possible manufacturing or logistics use," said Tim Yost, a spokesman for Motors Liquidation Co., the legal entity created to manage the unwanted assets of GM after the automaker emerged from bankruptcy.
GM announced in June 2009 that it would shut down the historic Willow Run plant by the end of 2010. At the time, the facility employed more than 1,300 workers - though it had some 14,000 at one point in the 1970s. During World War II, the plant made bombers for the military. Today, the plant has about 320 workers left.
Motors Liquidation, working with a consulting firm called Alix Partners, is actively marketing the ex-GM plants that didn't survive the company's bankruptcy restructuring.
But local economic development leaders and political officials are also involved in efforts to attract a new user. Those officials have discussed ways to accelerate the Willow Run plant's repositioning by highlighting its proximity to the airport.
Now they'll have a new tool at their disposal: state tax incentives. The Michigan Legislature on Friday passed the Next Michigan Development Act, which allows local governments to establish collaborative groups with the authority to create tax incentive zones targeted at the transportation and logistics industry.
In anticipation of this bill, Washtenaw County, Wayne County, Ypsilanti, Ypsilanti Township, Belleville, Taylor, Romulus, Huron Township and Van Buren Township signed a deal to create the Aerotropolis Development Corp. to distribute tax incentives and handle permitting and other paperwork.
In 2009, GM paid $5.4 million in taxes on the property to Ypsilanti Township. Ypsilanti Township Supervisor Brenda Stumbo did not respond to calls seeking comment.
The Aerotropolis Development Corp. could hasten any plan to tie the GM Willow Run plant's future to the airport.
"The idea that the airport as part of the Aerotropolis has major upside potential as a freight location is something that's been talked about extensively. There is a lot of interest in further developing that concept," said Michael Finney, CEO of Ann Arbor SPARK.
"To the extent that it would impact or include the General Motors site is not determined. But because it's contiguous you've got to believe that if the airport as a freight hub takes off, the opportunities for that site are enhanced."
Rolland Sizemore Jr., chairman of the Washtenaw County Board of Commissioners, said that transportation companies could consider using a piece of the GM property to establish operations right next door to the airport.
"There's a possibility of them maybe using part of the Willow Run plant," Sizemore said.
The GM plant's proximity to the Willow Run airport could prove beneficial, but simply readying the GM property for new users will be a huge feat.
The building itself is 1.25 miles long. The plant is the size of about 110 football fields - that is, enough to swallow about 25 Walmart superstores.
Some outside companies, including a military vehicle refurbishing operation, showed interest in the site when it came onto the market in 2009. But "none of those came to fruition," Finney said.
Of the 5 million square feet of facilities, about 1 million were upgraded in 2004. That part of the facility is viewed as particularly attractive to a new user.
"It's pretty obvious to me that the idea of breaking it up and using maybe the (renovated) million square feet as the primary target for development might be a more viable option than finding a user for the whole site," Finney said. "Some parts of it appear to not be useful."
Much of the facility is outdated. Parts of the plant still have wooden floors, for example. Prospective new users would almost certainly have to make a significant investment in renovations.
The experience of another abandoned local auto plant may be relevant to the GM plant's repositioning. When Ford Motor Co.-controlled Automotive Components Holdings sold its 1 million-square-foot Ypsilanti plant to Taylor-based tubular parts maker Angstrom USA a year ago, Angstrom decided to demolish about 250,000 square feet of the outdated facility as part of a 2-year renovation plan.
The lesson for GM Willow Run: Parts of the facility may have to be demolished under a new user.
"There may be need for some demolition of some parts of the site," Finney said. "I just think everything needs to be on the table."
Contact AnnArbor.com's Nathan Bomey at (734) 623-2587 or nathanbomey@annarbor.com. You can also follow him on Twitter or subscribe to AnnArbor.com's newsletters.