Posted on
Fri, May 4, 2012 : 5:58 a.m.
Grand Traverse Pie Co. plans to open Monday in downtown Ann Arbor
By Lizzy Alfs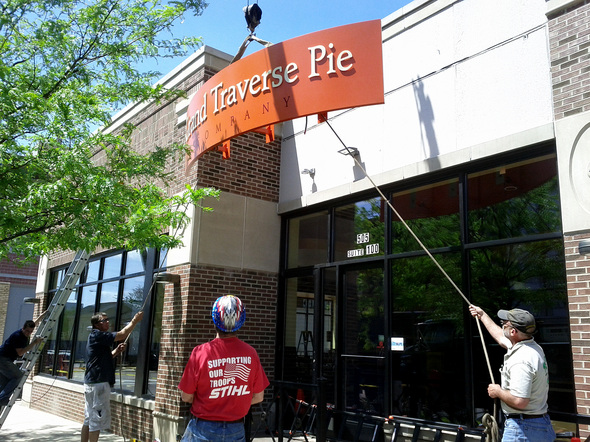 Angela Cesere | AnnArbor.com
With the sign installed, employees hired and renovations completed, the owners of the new
Grand Traverse Pie Company
in downtown
Ann Arbor
plan to open their restaurant on Monday.
Franchisee owners Dave and Beth Ziegler — who also own the Grand Traverse Pie Co. on Zeeb Road in the Ann Arbor area — signed a lease for the 3,185-square-foot former @burger space at 505 E. Liberty St. in October 2011.
The opening of the restaurant was then put on hold for several months for personal reasons, Dave Ziegler told AnnArbor.com in December.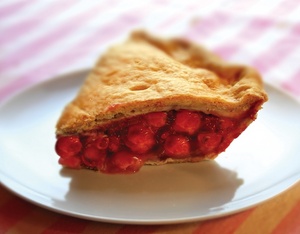 Photo courtesy of Grand Traverse Pie Co.
But with everything now ready to go, the restaurant will open at 8 a.m. on Monday with free samples of pie throughout the day, said company founder Mike Busley.
Busley and his wife, Denise, founded Grand Traverse Pie Co. in Traverse City in 1996. There are now 16 locations in Michigan and Indiana, and Busley said the company continues to expand.
"We expand with two or three stores a year," he said. "There are still opportunities in Michigan, but we are not all about growing fast and making the number big. We want each store to be well-thought out."
He said renovations at the downtown Ann Arbor space were minimal due to the amount of work @burger invested when it opened in 2010. Big Boy Restaurants launched the @burger concept with the goal of it becoming a national chain, but the concept died when the restaurant closed a year after it opened.
"(Renovations were) mainly cosmetic because of the @burger improvements," he said. "We changed the finishes, all the counters are reclaimed maple and oak wood from the Ann Arbor area and our pictures will be on the walls."
Busley said he and the franchisee owners are also looking to get involved with the Ann Arbor community, and Grand Traverse Pie Co. will participate in events such as the Ann Arbor Film Festival and Taste of Ann Arbor.
The restaurant's menu consists of pies and other sweets, deli sandwiches, salads, soups and breakfast foods. Busley said the company uses many Michigan-made and grown products, including its fruit, flour and coffee — which comes from Traverse City-based Higher Grounds Trading Company.
"If we can form relationships with solid Michigan companies then we feel that were adding value not only to the community but fellow businesses in the state," he said.
Lizzy Alfs is a business reporter for AnnArbor.com. Reach her at 734-623-2584 or email her at lizzyalfs@annarbor.com. Follow her on Twitter at http://twitter.com/lizzyalfs.