Analysis
Updated:

HandyLab's shutdown in Ann Arbor: October campaign issue for Rick Snyder?

Posted on Thu, Oct 7, 2010 : 11:08 a.m.
(Note: This story has been updated after the Michigan Democratic Party this morning issued a statement on HandyLab's closure.)

A New Jersey corporation's decision to slash its Ann Arbor operation stands to become an issue in the gubernatorial campaign between Ann Arbor venture capitalist and GOP candidate Rick Snyder and Lansing Mayor and Democratic candidate Virg Bernero.
The corporation, medical devices giant Becton, Dickinson and Co., said it would eliminate its Ann Arbor office, which it inherited in late 2009 after acquiring University of Michigan startup HandyLab for $275 million.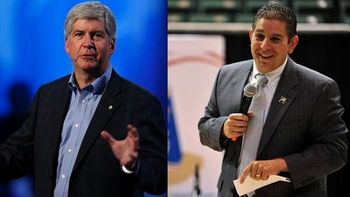 HandyLab's exodus from Ann Arbor comes at an inconvenient time for Snyder, who was chairman of HandyLab when the company was sold and has been trumpeting the company as an example of why he's the best "job creator" in the campaign.
Snyder's venture capital firm
Ardesta
was one of several local VC firms that invested in HandyLab in its early days and reaped a portion of the profits when the company was sold to BD.
BD, a $7.4 billion company with some 29,000 employees, is completely leaving the Ann Arbor area by July 2011 and its 50 employees will no longer be working in Ann Arbor. Manufacturing of HandyLab's promising rapid detection-infection device will be consolidated at a Maryland facility. It's unclear whether HandyLab's workers will be laid off or offered the opportunity to transfer.
HandyLab becomes an issue as the gubernatorial candidates are jockeying to brand themselves as the candidate most qualified to resuscitate Michigan's economy and create jobs in the state.
Snyder left the company after the acquisition in 2009 and had nothing to do with BD's decision. Still, the elimination of HandyLab's local office provides political ammunition to Bernero's campaign.

"Snyder's whole campaign is based on the fact that he's a business man, but his businesses end up eliminating jobs, not creating them. He brags about Gateway and HandyLab, but each ended up laying people off while making him rich," Bernero campaign spokesman Cullen Schwarz said in an e-mail. "Somehow Mr. Snyder always manages to make himself money while leaving laid off and outsourced workers in his wake."
Snyder's campaign, which cites HandyLab as an example of Snyder's economic credentials on his campaign website, sought to portray HandyLab's demise as an example of Michigan's economic problems.
"The thing that shocked Rick the most was, had he still been an owner of this company, the company would still be here," Snyder campaign spokesman Bill Nowling said. "That said, this illustrates just how tough the economy is here in Michigan. We're making it easy for businesses in other states to argue that the businesses should go elsewhere, and we need to change that."
Nowling said Snyder was unavailable to comment late Wednesday but said Snyder was caught off guard by BD's announcement. He suggested that Michigan's business tax structure made it difficult to keep companies like HandyLab.
"The reasons behind it are kind of the subtext of the whole campaign in terms of why we need to reinvent Michigan's economy," Nowling said. "Unfortunately HandyLab is just the last in a long line of headlines where companies decided that there was a better place to do business than in Michigan."
In a statement released this morning, Michigan Democratic Party chairman Mark Brewer said HandyLab's departure shows that Snyder is a "jobs killer."
"It's the same old story with Rick Snyder," Brewer said. "He ran Gateway into the ground before selling it to the Chinese, and now he makes money selling HandyLab and then it closes and lays off Michigan workers. Snyder's businesses have a history of making money for Snyder, laying off workers, closing their doors, and leaving Michigan. It's déjà  vu all over again."
Snyder's supporters say he should not be held responsible for what BD decided to do after acquiring HandyLab.
Ted Dacko, a Snyder supporter and former CEO of software firm HealthMedia, said on Twitter that it was "ridiculous" to blame Snyder.

Snyder was a co-founder of HealthMedia, which was acquired by Johnson & Johnson in 2008 and still employs nearly 200 employees and contractors in Ann Arbor.
"When one company buys another company they control that asset. 100%," Dacko posted.
Contact AnnArbor.com's Nathan Bomey at (734) 623-2587 or nathanbomey@annarbor.com. You can also follow him on Twitter or subscribe to AnnArbor.com's newsletters.