Posted on
Mon, Aug 27, 2012 : 5:58 a.m.
Hookah lounge and carryout restaurant to open in downtown Ann Arbor this fall
By Lizzy Alfs
Khaled Mohamed plans to combine food, hookah and entertainment when he opens his new venture in downtown Ann Arbor this fall.
Mohamed signed a lease in April for a 2,000-square-foot space at 210 S. Fourth Ave., just north of East Liberty Street.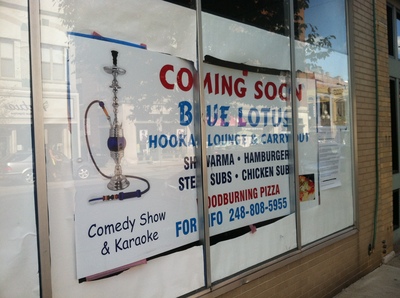 Lizzy Alfs | AnnArbor.com
He plans to open Blue Lotus, a hookah lounge, carryout restaurant, comedy showcase and karaoke spot, in two months. Hookah is a water pipe that commonly is used to smoke flavored tobacco.
"Nobody else is doing what I'm doing in Ann Arbor," Mohamed said. "There is a big Middle Eastern community in Ann Arbor and this is something they like to do: relax, eat and smoke after work."
The hookah business in Ann Arbor has dwindled since Michigan's statewide indoor smoking ban took effect in May 2010. Multiple hookah bars across the state had to close down due to stricter requirements placed on hookah businesses.
Under the state's law, a hookah lounge cannot serve food or liquor, it has to be an entirely new legal entity if it's connected to a restaurant, and it also must have its own entrance.
The only hookah lounge remaining in the downtown Ann Arbor area is Smoka Hookah Lounge at 1108 South University Ave., located above Rendezvous Cafe.
Mohamed said the Blue Lotus space will be split into two separate businesses: one side will strictly be a carry-out restaurant and the other will be the lounge. Customers in the hookah lounge can order food to-go from the restaurant.
"When people like to smoke hookah they drive to Dearborn," Mohamed said. "When I talk to some people who own businesses in Ypsilanti and Ann Arbor, they tell me, 'We can't wait for you to open.' It's something new and close for them."
The restaurant will serve wood-fired pizza, sandwiches, subs, salads, fresh juices and "the best Shawarma in Michigan," he said. The lounge also will host small comedy shows and have karaoke nights.
He said he's importing everything from Egypt, including the furnishings and the hookah pipes.
Just around the corner from Blue Lotus, two smoke shops have opened in the past year on East Liberty Street. Bongz & Thongz, located at 119 E. Liberty St., and Wild Side Smoke Shop, located at 209 E. Liberty St., which both carry hookah products.
Lizzy Alfs is a business reporter for AnnArbor.com. Reach her at 734-623-2584 or email her at lizzyalfs@annarbor.com. Follow her on Twitter at http://twitter.com/lizzyalfs.