Posted on
Sun, Dec 9, 2012 : 5:57 a.m.
How Ann Arbor's South State Street area is thriving as an apparel shopping district
By Lizzy Alfs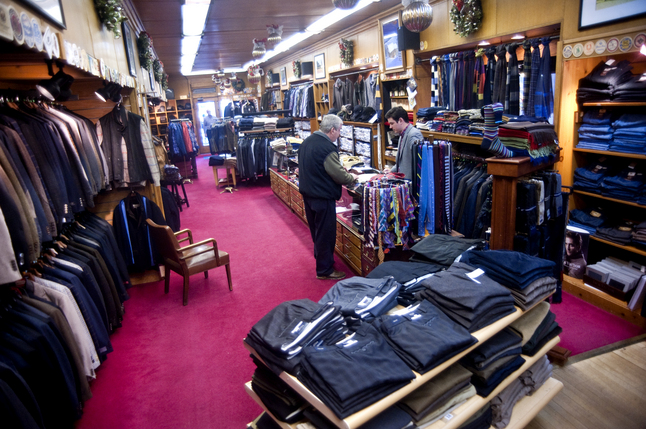 Joseph Tobianski | AnnArbor.com
Clothing is a cornerstone of Ann Arbor's South State Street corridor.
From longtime retailers like Van Boven and Renaissance to newer stores like Pitaya and Pink Pump, there are more than a dozen clothing shops in the few-block radius near the University of Michigan's Diag.
And it's no surprise retailers are attracted to South State, said Tom Heywood, executive director of the State Street Area Association: "Clothing has always played a part in this neighborhood because faculty and students have bought clothes forever."
But the South State corridor, like other parts of downtown, has seen businesses come and go, including the flagship Borders store on East Liberty. Other retail spaces in the area have been converted to restaurants, such as the former Shaman Drum Bookshop.
In an age where consumers are spending less and turning to online shopping, the question is: How do brick-and-mortar retailers find success?
Here are some approaches the clothing retailers — some newer and some decades old — take to drive sales, attract customers and ensure longevity.
Create a community of businesses
It's all about critical mass, Heywood said.
When one business owner finds success in an area, other entrepreneurs will be drawn there. It's beneficial to create a community of like-minded businesses.
The Getup Vintage clothing store owner Kelly McLeod said it was that community feeling that convinced her to open her store on South State in 2005.
"It has become a desination to walk down State Street," she said. "It really helped us having neighbors, even if it's not similar apparel, it's a shopping destination."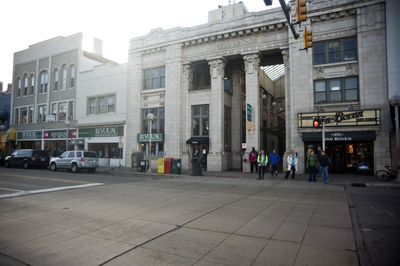 Joseph Tobianski | AnnArbor.com
For newer boutique owner Johnny Vaughn, business is about collaboration, not competition. Vaughn and his business partner, Wendy Chapman, opened two stores in Nickels Arcade in the past two years.
"A lot of us (business owners) are working together to try and get more ideas and to focus on State Street as an emerging fashion apparel area," he said. "We have customers who shop at Bivouac, American Apparel, Urban Outfitters, but they still come to us for what we have to offer, too."
Business owners also said supporting Washtenaw County's Think Local First organization and the buy local movement in general is feeding that community feel.
Expand your market
Ed Davidson's fashion and outdoor store on South State has gone through countless evolutions. Originally an army surplus store in the 1970s, Davidson has transformed Bivouac into a popular shopping destination.
Most important to his business model, he said, is that he's able to capture both the student population and other Ann Arbor demographics.
"Basically, you have to have what people want — not just students," he said. "That's the ultimate answer. The students are only here September through the beginning of May, if I can't do something that attracts non-students, it's going to be a problem."
On the other hand, Van Boven has been selling high-end clothes — and shoes at its neighboring store — to university professors and other employees for 90 years.
But employee Alex McEachern said lately, the family-owned store has been expanding its reach to a younger demographic: "I think it's safe to say at this point, we have more college students coming into the store than ever before."
Be trend forward
When Van Boven opened, McEachern said the store stocked some 600 suits. But as Ann Arbor's tastes changed, so did the store.
"Now, we probably have less than 100 (suits) and that's because Ann Arbor has gotten to be much more casual," he said.
Stores like Pitaya, Urban Outfitters and American Apparel have been successful in capturing big business from the student demographic — largely because they stay on top of fashion trends.
Bivouac, also, is constantly changing its inventory based on people's tastes.
AnnArbor.com file photo
"I edit clothing lines to what I think the people in Ann Arbor want," Davidson said.
Heywood added: "If you're not constantly renewing your inventory and your styles, you can quickly get out of date. The one thing you know about clothing is people hate being out of date."
Van Boven Shoes owner Rich Bellas, also board president of the State Street Area Association, said he's gotten on board with Facebook and other social media sites to stay on top of emerging marketing trends.
Emphasize good service
There's a common sentiment among small business owners: service is absolutely crucial to retaining customers and getting people in your door.
That's why some stores — like Bivouac — will price match anything in the store with other businesses and the Internet.
"I want my customers to know they will not pay a nickel more to shop here," Davidson said. "If I have to make 5 percent or 1 percent, that's OK with me."
McLeod said helping customers find things in the store, even acting as personal shoppers when a customer asks for help, convinces shoppers to patronize The Getup Vintage rather than buy online.
That good service, for many business owners, creates a fiercely loyal customer base.
"We have customers from all over the country and even beyond," McEachern said. "Parents and alumni know Van Boven and they come back, especially during football season. We have customers that we see five times a football season and they're coming in from San Diego."
Community involvement
Bellas said participating in community events — like SHEI Magazine's fashion show — help create awareness.
Also helpful, several business owners agreed, is reaching out to the growing number of office employees in the State Street area. Barracuda Network's recent move to a building on Maynard Street brought 200 additional employees to the area.
"We have new Barracuda employees, Google, and all these high tech companies," Bellas said. "Mobiata is in (Nickels Arcade) now. We've got these great businesses that we have to foster and get behind to support."
Bellas also noted that when a business owner gives back to the community, the community will, in turn, want to support that store.
Davidson added: "Ann Arbor likes a downtown. It's not typically a mall community…(people) want a vibrant downtown."
Lizzy Alfs is a business reporter for AnnArbor.com. Reach her at 734-623-2584 or email her at lizzyalfs@annarbor.com. Follow her on Twitter at http://twitter.com/lizzyalfs.